Calendar
Dear Freshkills Park Supporters,
The Freshkills Park team and the Freshkills Park Alliance are committed to ensuring the health and safety of our staff and our visitors.  As in the past, most of the Park is only accessible during scheduled park programs which have now resumed on a limited basis. Our events will follow the current NYC Parks safety guidelines, which can be found here.  In addition, you  can also cycle/walk the New Springville Greenway on Richmond Avenue, take a run around the Owl Hollow Soccer Fields near Arden Heights or visit the playground at Schmul Park in Travis.
You can also experience Freshkills Park at Home:
Discover Freshkills Park @Home and experience the history, art, wildlife, education and recreation through a variety of virtual tours, downloads and more.
Virtual Field Trips and Presentations are now available for schools, universities, and community groups. Learn more and sign up!
Check out our Freshkills Park upStream page for educational materials ​about the Wildlife at Freshkills, Upcycling challenges, Sustainability tips, and virtual glimpses into the Park.
Please check this page for updates. If you'd like to stay connected to Freshkills Park, our online education resources are always available.
Follow @freshkillspark on Twitter, Facebook, and Instagram and join the mailing list for updates.

To learn about becoming a corporate sponsor, contact freshkillspark@parks.nyc.gov.
Upcoming Events
Kayak along Freshkills Park's waterways! This two mile round-trip paddle is a chance to explore the creeks and shorelines of Freshkills Park and experience the wildlife while the site is closed to the public. We know this program fills quickly and wish we could offer it more frequently. But we have a small staff and […]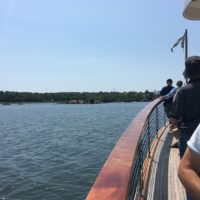 The following tour information is provided by Classic Harbor Line: Key Points about this Tour: 3.25 hrs $86 per person Co-hosted by the AIANY & leadership from Freshkills Park Travels through industrial waterways into Freshkills to see the development of what will be a city park 3 times the size of Central Park! One of […]
Join the Freshkills Park Alliance and NYC Parks Department for a "Thrive with Pride" volunteer day at Schmul Park on June 26th! Start off your Pride weekend with LGBTQ+ community and allies and learn how to identify native, invasive, and ornamental plants while helping to make the pollinator garden thrive and welcoming to all! A […]
Past Events