Wanderings: A Dance Performance with Kathy Westwater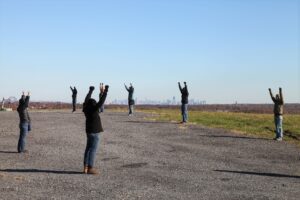 Freshkills Park presents Choreographer Kathy Westwater's Wanderings, a work emerging from her inquiry begun nearly fifteen years ago into the site of Fresh Kills Landfill. Wanderings features a guided wandering experience for audience members across a capped landfill mound, culminating with a performance by dancers and musicians on the summit of the mound, overlooking the reclaimed site and distant urban skyline. Mining her accumulated years of research at the landfill site, Wanderings is an act of processing and remediating environmental trauma, grief, and complicity.
Conceived and directed by Westwater, Wanderings features performances by Marisa Clementi, Rakia Seaborn, Stacy Lynn Smith, Alex Romania, Nathalia Trogdon, Westwater, and Lu Yim; music composed and performed live by Sean Meehan; dramaturgy by Clarinda Mac Low; and art direction by Seung Jae Lee.
Wanderings is part of Westwater's durational project PARK which in its current, second cycle encompasses the PARK Ephemera exhibition on view now through December 31 at the Newhouse Center for Contemporary Art at Snug Harbor in Staten Island, and a theatrical presentation at Gibney Center in Manhattan in December.
Tickets: Each ticket admits 1 person and reserves 1 seat on the bus. Visitors of any age are welcome but minors must be accompanied by an adult at all times. Advanced registration is required. Register here!
Transportation: Buses will take audience members from St. George Ferry Terminal area in Staten Island to the performance at the Park. Details about an exact meeting place will be sent out closer to the performance. For those who would like to visit the PARK Ephemera exhibition at the Newhouse Center for Contemporary Art, buses will be making a stop on the return trip after the performance to the ferry.
Accessibility: We will be walking approximately 1-mile on a gravel trail, which includes elevation and can be uneven at times. An ADA accessible portable toilet will be available at the beginning and end.
Plan Ahead: Be "tick aware" and wear long pants, close-toed shoes, and insect repellant.
Funding: Wanderings, part of the PARK project, is made possible in part by the National Endowment for the Arts, and by The Freshkills Park Alliance. It is also made possible through generous support of a 2020-21 PASS/CUNY Dance Initiative residency at Snug Harbor Cultural Center and Botanical Garden and the College of Staten Island with lead support from the Howard Gilman Foundation, with additional support from the Samuel I. Newhouse Foundation, and the New York City Department of Cultural Affairs in partnership with the City Council. PARK is supported by Dance/NYC's Coronavirus Dance Relief Fund in 2020 & 2022; and, in part, by a Foundation for Contemporary Arts Emergency Grant and the FCA Emergency Grants COVID-19 Fund. It is developed as part of Lower Manhattan Cultural Council's Arts Center Residency program. Theatrical performances of PARK are commissioned by Gibney and curated by Eva Yaa Asantewaa as part of the organization's Gibney Presents series for the 2022-23 Season.