Freshkills Park Alliance Earth Day Festival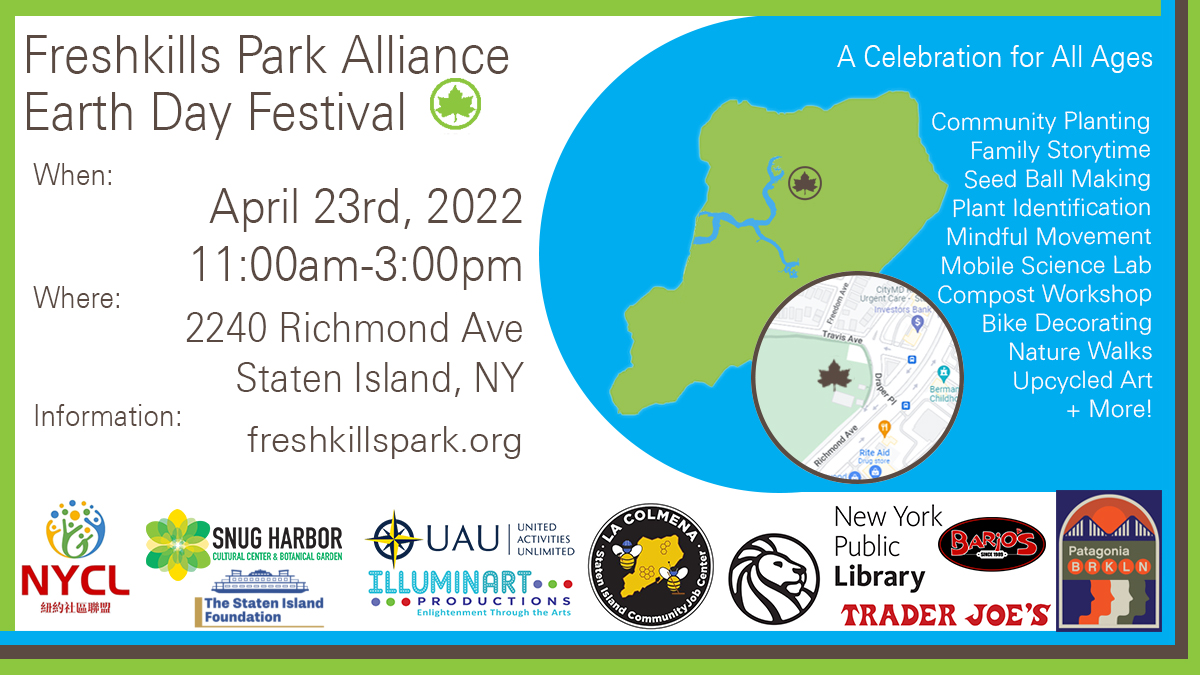 Join us outdoors for our first annual Earth Day Festival marking the 52nd anniversary of Earth Day. Freshkills Park is an extraordinary 2,200 acre urban park that is a model for sustainable land reclamation, a source of pride for Staten Island and New York City, and an investment of open space for generations to come.  Celebrate our legacy by joining us, and our partners for an afternoon of outdoor activities highlighting simple ways to support our community and our planet.
This festival  is free for all ages!
This year Freshkills Park is excited to present a mix of drop-in and scheduled activities in collaboration with community partners. For those looking to learn more about the wildlife, history, or art at the park, programs will be led by Snug Harbor, Urban Park Rangers, IlluminArt Productions, United Activities Unlimited, La Colmena, New York Community League, and the New York Public Library. Interactive workshops include community planting, seed ball making, upcycled art, plant identification, a mobile science lab, family storytime, mindful movement exercises, and a bike decoration and ride event. Visitors are also welcome to explore the New Springville Greenway.
Schedule of Events:
11:00 Event Begins
11:00 – 12:30 Seed Ball Workshops (drop-in)
11:15 – 12:00 Nature Walk with Urban Park Rangers
11:30 – 12:00 Storytime (English) with NYPL
12:00 – 1:00 Compost 101 Workshop with Snug Harbor
12:15 – 1:00 Mindful Movement with Be Yoga and Dance
1:00 – 2:00 Compost 101 Workshop with Snug Harbor
1:00 – 2:00 Volunteer Planting
1:15 – 1:45 故事时间 / Storytime (Mandarin)
1:45 – 2:30 Nature Walk with Urban Park Rangers
2:30 – 3:00 Bike and Scooter Celebration on New Springville Greenway
All day: Community Tabling, Upcycled Plant Sculpture with IlluminArt Productions, Mobile Lab, Bike & Scooter Decorating
PLANNING YOUR VISIT:
Come prepared for the outdoors! Conditions can be muddy. We recommend wearing closed-toed shoes and be sure to dress for the weather.

Bicycle and stroller parking available on-site.

Restrooms are ADA accessible.

There will be

no

designated storage for bags or coats.

Pets are

not

allowed, for the safety of our visitors. Service animals are permitted as described by the ADA.

Check for event updates at freshkillspark.org or on social media @freshkillspark if inclement weather is forecasted.
Activities and events:
Storytime: An interactive and playful storytime with an environmental focus for families with young children (0-8 years old).
Mindful Movement: Commune with nature mentally and physically through yoga, stretching, and meditation. Open to all ages and modifiable for those of all ability-levels.
Nature Walks: Join the Urban Park Rangers to explore the flora and fauna of Staten Island on a journey from Freshkills Park to the William T. Davis Wildlife Refuge.
Upcycled Art: Join IlluminArt Productions to sculpt a plant from your own imagination nspired by local flowers, trees and grasses using upcycled materials.
Mobile Lab: Explore the science of Freshkills Park through hands-on activities with our researchers!
Compost: Why is compost important? How can you make it and use it? Learn all this and more through a workshop with Snug Harbor and the NYC Compost Project. Compost pick-up and scrap drop-off will also be available!
Planting and Seed Balls: Plant and learn about native plants at the Studio + Gallery as a part of a larger beautification effort. Visitors can also make seed balls to take home and spread beneficial plants across the Island!
Bicycle & Scooter Decoration Parade: Create decorations for your bike or scooter and show them off at an end-of-day parade on the New Springville Greenway!
TRANSPORTATION:
The festival will take place at 2240 Richmond Avenue near the corner of Richmond Ave and Travis Ave. For cars, neighborhood street parking will be available nearby. By public transportation, take the S44, S59, S94, or SIM4C bus to either the Richmond/Travis Ave or Richmond/ Draper Place stops.   
QUESTIONS? Email info@freshkillspark.org