Discovery Day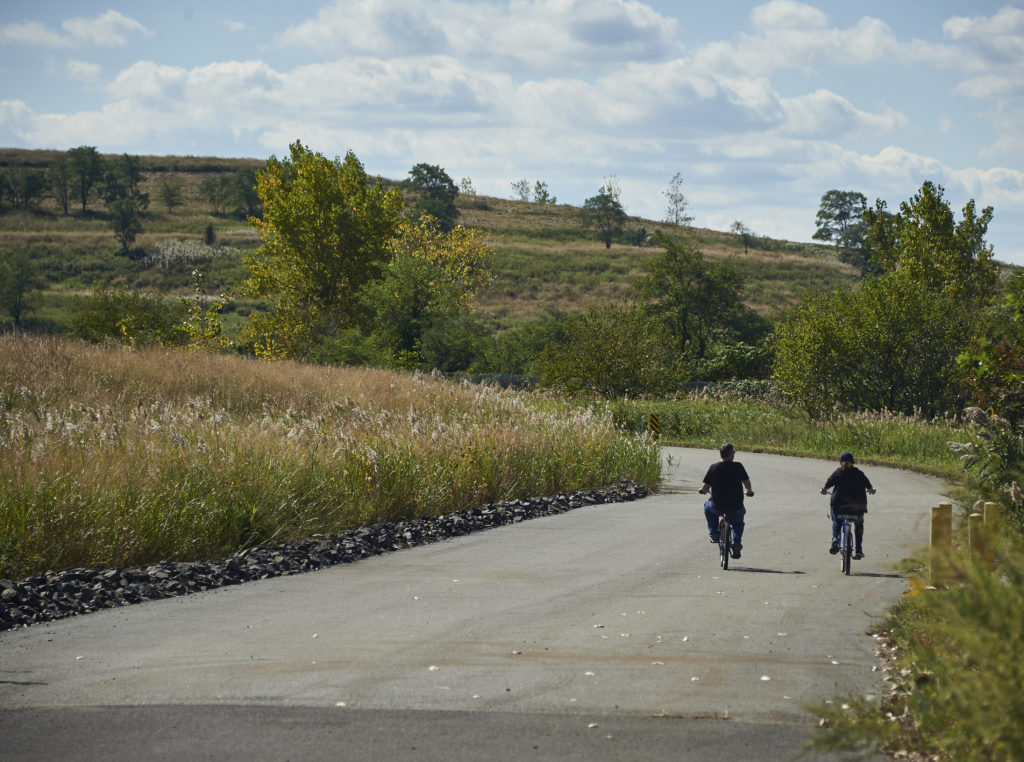 Discover Freshkills Park and experience the unique landscape and spectacular views the landfill-to-park project has to offer. This free event is a special opportunity to spend a summer afternoon exploring the future park while the site is closed to the public. Hundreds of acres and miles of trails will be open for tours, bicycling, and activities for all ages.
At 2,200 acres, Freshkills Park is almost three times the size of Central Park and the largest park to be developed in New York City in over 100 years. It also has a significant history as the site of the Fresh Kills Landfill, which was the largest landfill in the world before closing in 2001. Since then, the site has become a place for wildlife, recreation, science, education, and art.  As the park is built in phases, free tours and events provide early access for learning and exploration opportunities.
Activities
Discovery Day will include the following activities:
Birdwatching tours with NYC Audubon
Infrastructure tours with NYC Department of Sanitation
Free bicycle rentals
Kite-flying and other activities with NYC Parks
Music performances by Staten Island Philharmonic
Sunprint art with Alice Austen House
Wind chime-making with Skip

LaPlante, with supplies from Materials for the Arts

Plein-air (outdoor) drawing with artist James Powers
Self-guided hiking, birding, and photography across miles of trails
During the event, artist Mayuko Fujino will paint a community collaborative mural on the bridge. This mural is sponsored by RPGA Studio and Projectivity Group.
For programming updates and details, follow @freshkillspark on Twitter, Facebook, and Instagram and join the mailing list.
Shuttles
During the event, free shuttles will provide transportation to and from the Staten Island Ferry Terminal in St. George. The shuttle is a school bus that picks passengers up from the Taxi Stand Ramp, and the ride to Freshkills Park will take approximately 30 minutes. Once the Ferry has arrived at the St. George Terminal in Staten Island, follow signs for "Ramp E/Taxi Stand," near the Information Booth and Au Bon Pain. Bikes are allowed on the shuttle buses as long as there is space.
Shuttles from Staten Island Ferry Terminal to Freshkills Park
10:30 am, 11:00 am, 11:30 am, 12:00 pm, 12:30 pm, 1:00 pm, 1:30 pm, 2:00 pm
Shuttles from Freshkills Park to Staten Island Ferry Terminal
12:15 pm, 12:45 pm, 1:15 pm, 1:45 pm, 2:15 pm, 2:45 pm, 3:15 pm, 3:45 pm, 4:15 pm
Parking
Parking will be available just outside Freshkills Park in lots near 350 Wild Avenue. From there, visitors can take a shuttle bus or walk or bike one mile to the main event area.
Presented by NYC Parks, NYC Department of Sanitation, and the Freshkills Park Alliance.