Opportunities
2022-2023 City Service Corps Position Description
Host Site Name: Freshkills Park
Position Title: Learning, Explore, Activate and Foster (LEAF) Coordinator
Location: 100 Gold Street, New York, NY and Freshkills Park, Staten Island, NY
Tentative Schedule: 9:00 am to 5:00 pm M-F, 2 Saturdays during Spring and Summer
# of member Slots in this Position: 1
Application period: Open and Rolling
How To Apply: Click Here for application
***The position is called "LEAF Coordinator" and listed under NYC Parks***
Need for the specific project on which AmeriCorps Member is serving:
Freshkills Park, located on the west shore of Staten Island, is a visionary project transforming what was formerly the world's largest landfill into an inclusive 2,200-acre ecological, cultural, and recreational resource for the entire city. The Park is evolving as a site for environmental research and ecological restoration; a living laboratory; an outdoor classroom; a site for outdoor adventures and events; and a place for creative expression in multiple artistic genres. While most of the 2,200 acres of this spectacular place can only be accessed during programs hosted by Parks staff, our first park project within the landfill boundary will be opening this fall. The AmeriCorps member will support a new program at Freshkills Park: LEAF (Learning, Explore, Activate, Foster). LEAF is a new service-learning initiative, in which Freshkillls Park will partner with school and community organizations to offer classroom learning, volunteer opportunities, and environmental education to support the next generation of environmental stewards. The AmeriCorps member will develop materials about the program, identify new beautification and maintenance projects, conduct outreach to schools and community members, manage supplies, logistics, and transportation, and co-lead a number of the educational and volunteer programs that will be scheduled for late spring/summer 2023.
The AmeriCorps member will also be responsible for developing a group of volunteers to work as an "education cadre." This group will be composed of volunteers, including retired teachers and college students, who will receive extensive training in leading programming at Freshkills Park. The AmeriCorps member will research similar programs at other organizations and create a set of recommendations about how to structure this program. They will also begin to develop outreach materials, a training calendar, and evaluation methods for this new program and begin recruiting volunteers to participate. The education cadre will significantly increase the Alliance's ability to host educational and public programming.
Expectations and Goals for the specific project on which AmeriCorps Member is
serving:
The AmeriCorps member will support the development, implementation, and evaluation of the LEAF program. After learning about the park and our approach to programming, the
AmeriCorps member will assist with developing information and training materials for LEAF; recruiting schools/teachers and community groups for the program; identifying locations for
service projects; and developing materials for recruiting and training a cadre of education volunteers who will support programming. The member will also be involved in event coordination and promotion and tracking involvement in and evaluation of the program.  The goal for the AmeriCorps member will be to host ten service-learning projects in the spring/summer of 2023 for a total of 150 students and two service-learning programs for 25 community members each or a total of 12 programs and 200 participants. In addition, the AmeriCorps member will be responsible for recruiting and supporting training for one education volunteer. In total, this work will expand volunteer engagement by 10%.
Member Position Summary:
The AmeriCorps member will assist with developing the organizational structure, tools and promotional and training materials for the new LEAF program – tailored to three different
audiences: K- 12 classrooms, community groups and the education cadre- that are all part of the program. The AmeriCorps member will conduct research on similar programs, identify key partners, develop procedures to manage event logistics such as transportation, translators, and supplies, assist in creating program activities, collect data and develop evaluation protocol, and lead programs. Some grant writing to obtain funding for logistical support will also be involved.  The AmeriCorps staff person will generally be working out of the Freshkills Park Development Office at 100 Gold Street during the non-programming months and splitting their time during programming season with about 75% of the time at the Park or in classrooms and 25% of the time in the office at Gold Street.
Detailed Tasks:
• Become well-versed in the history and ecology of Freshkills Park:
o Learn about the very unique and complex history of Freshkills Park as the world's largest landfill-to-park transformation project and become familiar with education and volunteer programs at the Park which will form the basis for the LEAF program.
o Accompany Education and Volunteer Coordinators on tours and presentations given to the public including in-class presentations and on-site classes as well as participation in volunteer programs to understand how volunteers are recruited and events are managed.
• Develop materials and a set of recommendations for the LEAF program:
o School partner materials will include a description of classroom and on-site curricula, a description of the specific service projects that would be coordinated with those lessons and how service learning aligns with NGSS standards and classroom curriculum.
o Community partner materials will include a description of on-site activities such as nature walks or kayak trips and the associated volunteer project such as a kayak cleanup. To make these community programs as accessible as possible, the AmeriCorps member will work with the Education Coordinator and community partners to translate materials into Spanish and Mandarin, at a minimum, and recruit translators for the events.
o Develop and implement a recruitment plan for schools and community groups.
o Prepare grants to cover logistics such as transportation, horticultural supplies, and translation services for service-learning programs
o Assist with logistics and co-lead service-learning events for school and community groups
o Develop and implement methods of tracking, evaluation, and reporting.
o Provide updates about the LEAF program using the Freshkills Park website, blog, newsletter, and social media accounts in partnership with school and community groups.
• Develop materials and a set of recommendations for the development of an education cadre:
o Research similar programs at other cultural organizations to determine best practices
o Develop outreach and recruitment materials for education cadre volunteers
o Develop training materials on the history, ecology, and design of Freshkills Park, as well as best practices in pedagogy, for education cadre volunteers
o With the Education Coordinator, recruit volunteers
o Create a plan to evaluate the success of the program.
• Freshkills Park also hosts general programming including kayak tours, nature walks and photography tours. The AmeriCorps member will at times be called upon to assist with these programs, which is always an opportunity to work with the public and enjoy the beauty of the Park.
Required Skills for AmeriCorps Members (set for all program members):
• Strong commitment to national service and the mission of the host site
• Desire to work in the non-profit sector
• Desire to serve with diverse communities
• Excellent organizational and communication skills
• Ability to conduct community outreach and make presentations to community groups
• Willingness to take initiative to achieve goals
• Strong project management/multi-tasking abilities
• A clear plan for living on the AmeriCorps stipend in New York City
• Availability to lead and/or attend events during evening and weekend hours (frequency
varies by position)
• Minimum high school diploma or equivalency
• Ability to pass a criminal background check
• US Citizen or lawful permanent resident (AmeriCorps regulations)
Preferred Academic or Experience Qualifications, Knowledge, Skills, and Abilities:
• Experience in either formal or informal education
• An interest/ability in working with the public
• An interest in the environment and sustainability
• Experience in volunteer projects involving both maintenance and beautification
• Experience in outdoor activities (kayaking, hiking) in various settings and conditions
• An ability to problem-solve in the moment
• An ability to work independently and as a part of a team
• General computer skills, including Microsoft Office and Adobe
• Interest/experience in social media and marketing/promotion
• Experience in an office environment
• An ability to work evenings and weekends
• A valid NY State driver's license
• Interest in data analysis and program evaluation
* Please note: The duties and responsibilities in this service position description may be subject to change. In the rare event that there are any changes, fellows will be notified prior to beginning the service year and the position description will be amended. All changes will be reviewed and approved in advance by NYC Service.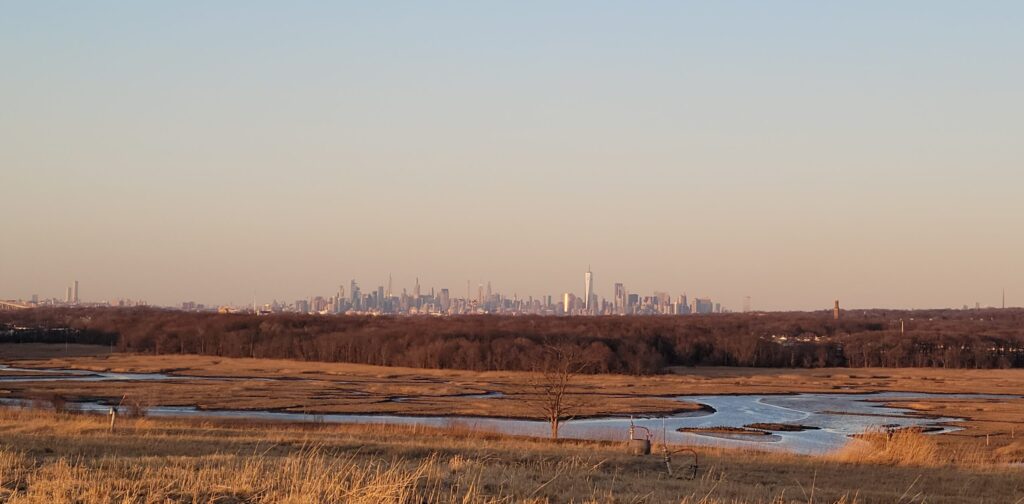 In accordance with NYC Parks guidelines, we have adopted a mandatory COVID-19 vaccine policy to safeguard the health of our employees and their families; our visitors; and the community at large during the pandemic. All Freshkills Park Alliance employees are required to be fully vaccinated against COVID-19 as determined by the CDC, unless a reasonable accommodation is approved. Potential employees will be given the opportunity to provide proof of vaccination or request a reasonable accommodation at the onset of employment.
The Freshkills Park Alliance is committed to attracting and retaining diverse staff, while working to foster an equitable and inclusive work environment where cultural diversity is celebrated and valued. We strongly encourage people from historically marginalized groups to apply.
The Freshkills Park Alliance is an equal opportunity employer. All qualified applicants will receive consideration for employment without regard to race, color, religion or creed, gender, gender identity or expression, familial status, sexual orientation, disability, national origin, ability, age, arrest or pre-employment conviction record, or military status.