Bike Race: The Great Gobbler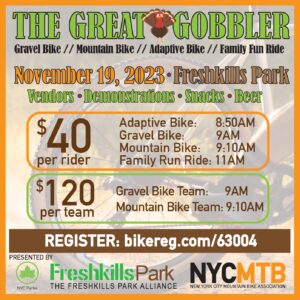 The Freshkills Park Alliance is gearing up with NYCMTB for a gravel bike race, the likes of which has never been seen on Staten Island!
This will be a day of riding as we celebrate fall, cycling and, of course, Freshkills Park.
The Great Gobbler will include categories for gravel, cross country, and adaptive cyclist. Distances in registration link below.
All proceeds from the race will go to support the Freshkills Park Alliance and IMBA's New York City Mountain Bike Association.
Advance registration is required.