Freshkills Park: Basket Weaving with Angel Ehlers of New Nature Arts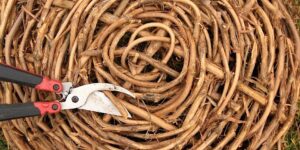 Come join us at Freshkills Park on October 15th for an amazing evening of basket weaving with the talented Angel Ehlers from New Nature Arts!
Baskets are some of the most ancient vessels crafted for gathering, carrying, and storing essential materials used in everyday life.  Indigenous cultures around the world have utilized the natural materials available in their regions to create baskets for millenia, and the art of basket weaving lives on in our modern world- not just for utility, but also for the sake of beauty and fine art.
Both native and invasive plant species that grow along our landscape today are ideal for using in the creation of various types of baskets, including many plants found right here at Freshkills Park!
Join artist Angel Ehlers of New Nature Arts as she guides you through the process of weaving a simple basket from all-natural, hand-harvested plant materials, including Bittersweet, Honeysuckle, Virginia Creeper, and more.  You'll also learn what plants the Lenape people of the Northeast used in their basketry, as well as how you can help restore balance to our natural environment by integrating current land stewardship practices into the process of ethically sourcing your own materials.
This is an introductory basketry program, but that doesn't mean it's easy.  Come prepared for a fun yet challenging hands-on experience!  All materials will be supplied, and participants will be using hand pruners.  This program is best for all ages 10+!
Location: FKPA Studio & Gallery, 2240 Richmond Ave., Staten Island, NY, 10314
~~~~~
Angel Ehlers is a multidisciplinary artist from Staten Island, NY (Aquehonga Manacknong) with a background in photography, survival skills, nature crafts, and Environmental Education.  Having served as an Urban Park Ranger and an Environmental Educator with NYC Parks, and an Educator for the Staten Island Museum, Angel has years of experience in welcoming her community into their local natural areas, introducing them to the land all around them, and teaching them about the natural and cultural history of this very special place.
Inspired by the urban forest, Angel creates baskets, jewelry, and various other creations composed of found pieces from the natural, built, and abandoned environments that make up Staten Island's unique landscape.  She calls back to the original people of the Island by making art in their images and honor, but through her modern lens.
Visit Angel's website www.newnaturearts.com for more information about her work and a schedule of upcoming events where you can find her.