Kayak Tour 10/9/21 @ 9:30 AM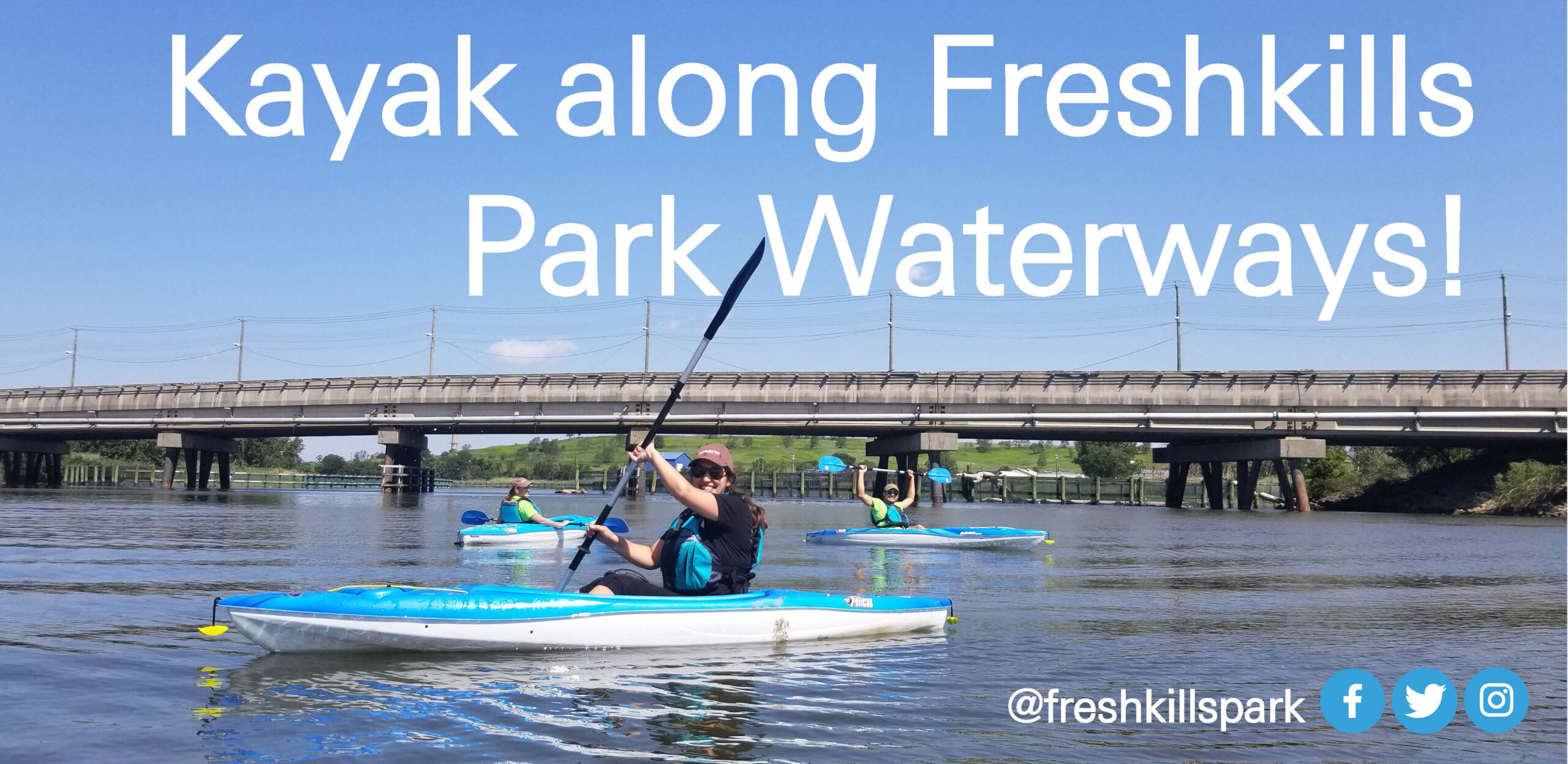 Kayak along Freshkills Park's waterways! This two mile round-trip paddle is a chance to explore the creeks and shorelines of Freshkills Park and experience the wildlife while the site is closed to the public. We know this program fills quickly and wish we could offer it more frequently.  But we have a small staff and are generally limited to trips on the weekend during high tide.
There is a $20 suggested donation per participant. Your donation supports education, programming, and research at the Freshkills Park Alliance and makes programs like this possible.
Registration: By registering for this event, you confirm you will provide your own transportation. Each ticket holder may bring up to 3 additional guests in their car. Due to limited reservations, carpooling with friends and family is encouraged.
Transportation: Because the site is under construction, all participants must provide their own car that will stay on-site the whole time. Participants may not use a bicycle, taxi or ride-share service.
Location provided with confirmation email on October 1st: We will meet and caravan onto the Freshkills Park site together.
Time: 9:30 AM- 12:00 PM
Gear: Wear sturdy shoes that you don't mind getting wet or muddy. Wear clothes that can get wet, and avoid heavy fabric like cotton and jeans. Please also bring water and sunblock. Life jackets will be provided and are required during the tour.
Technology: Feel free to take photos, but consider carefully before bringing any electronic devices with you as they may possibly get wet, damaged, or dropped during the program.
Restrictions: All visitors must be at least 16 years of age and able to kayak to attend this tour. You will be asked to sign an activity waiver before participating in the program.
Cancellation: This tour will be canceled if registration is too low, or if there is a 60% or greater chance of rain on the day of the event. You will be asked to confirm your registration by email before the tour. As we receive cancellations, names will be added from the waitlist. If you know you will be unable to attend, please cancel your registration by email (info@freshkillspark.org) so we can fill the reservation.
Covid-19 Precautions:
You will find current information on NYC Parks safety guidelines here.
Masks, Gloves, and Hand sanitizer will be available.
By participating in this event you are acknowledging that you and your guests have not experienced a fever, not tested positive for COVID-19, and have not been exposed to anyone with COVID-19 within 14 days of the event. Should you develop symptoms after registration, please cancel your registration by email. info@freshkillspark.org