Open House New York Tours (Oct. 21st & Oct. 22nd)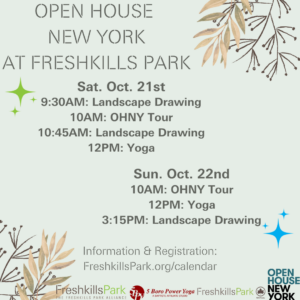 Enter the lottery for Open House New York Weekend! Freshkills Park is a Weekend Partner and will be offering two guided tours.
The Freshkills Park Alliance and NYC Parks will discuss the past, present, and future of Freshkills Park and highlight the park's grasslands, wetlands, and wildlife on this tour. The tour starts at the newly opened North Park Phase 1 of the park and then proceeds to the top of North Mound, located in the DSNY site and normally closed to the public.
How can I get tickets?
Entry to this location is free, but requires tickets distributed via lottery. The lottery opens Tuesday, October 10 at 9am. Participants will have 48 hours to submit their entries. All entries must be submitted by Thursday, October 12 at 9am. Winners will be selected in multiple draws from Thursday, October 12 to Monday, October 16.