Panel at NADA New York
Freshkills Park's Manager for Programs, Arts and Grants Mariel Villere will moderate a panel at NADA New York called "Models of Practice: New territories and frameworks for public art." Speakers are La Casita Verde President Brooke Singer, Container Artist Residency founder Maayan Strauss, and NYC Department of Cultural Affairs Digital Communications Manager Diya Vij.
With increasingly more room in today's contemporary art scene for process-based work, and form itself as methodology or language, institutions are reconfiguring the museum model and opening opportunities for artists to pursue new spatial territories and organizational frameworks for production. This panel discussion convenes artists and organizers creating new platforms to present their programs and/or projects taking place in landscapes and gardens, waterways and global trade networks, and government agencies. Each of these territories place individual practices within larger networks and the work in a position to influence systems, whether political, ecological, capitalist and/or urban. Through discussion, panelists will compare notes on the frameworks, approaches and project outcomes of art programs conquering new territories and carving alternative methods from existing models.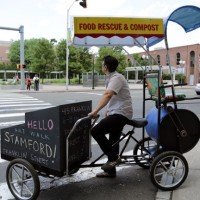 Brooke Singer is a media artist who lives in New York City. She blurs the borders between science, technology, politics and arts practices. Her work lives "on" and "off" line (as websites, workshops, photographs, maps, installations, social spaces and performances) that involves public participation in pursuit of social change. She is Associate Professor of New Media at Purchase College, a co-founder of the former art collective Preemptive Media and co-founder of La Casita Verde in Brooklyn, NY. La Casita Verde is a community garden dedicated to the soil food web and providing public space for experiments in sustainable, urban living.
La Casita Verde is an urban "green esquina" for the public to learn about and participate in the soil food web. The GreenThumb NYC Parks community garden supports urban agriculture, soil rehabilitation, solar energy, public art and a tech/sci lab. The garden also hosts events for skill sharing and community building around healthful living.
Diya Vij is the Digital Communications Manager at the New York City Department of Cultural Affairs (DCLA) where she launched and oversees all internet-based communications for the agency. In addition to Digital Communications, Diya manages a newly launched artist residency program which places artists-in-residence with other city agencies. Prior to her position at the DCLA, she served as Communications Manager at the Queens Museum from 2010-2014. She has a BA from Bard College and is currently finishing her MA in Art History from Hunter College.
Inspired in part by Mierle Laderman Ukeles' pioneering 38 years-and-counting artist residency with the Department of Sanitation, in the fall of 2015, the NYC Department of Cultural Affairs (DCLA) launched a new program, Public Artists in Residence (PAIR), to create more avenues for artists to work with New York City government agencies. Building relationships between artists and city government facilitates the reevaluation of city functions, the proposition of solutions through creative tools, and ultimately, the creation of new and meaningful links between the government and the public it serves. Each PAIR residency is crafted collaboratively between DCLA and the partner agency to address a specific need, population, or challenge. The residencies are structured simply and flexibly, consisting of a research phase allowing time for the artist to engage with staff and ongoing projects on site at the Agency, followed by the project implementation phase as defined by the artist(s).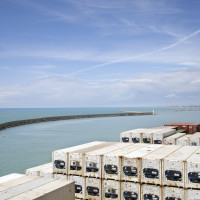 Maayan Strauss is a New York based multidisciplinary artist. Her practice examines infrastructures, labor and new platforms, while reflecting on the nature and conditions of contemporary artistic production. Strauss received her MFA in photography from Yale School of Art and a B.Arch degree from the Bezalel Academy of Art and Design in Jerusalem. She has exhibited in museums and galleries internationally, including The Herzliya Museum of Contemporary Art, The Israel Museum in Jerusalem, Storefront for Art and Architecture, Andrea Meislin Gallery and Louis B. James Gallery in New york, and The Bi-City Biennale of Urbanism/Architecture in Shenzhen, China.
In 2011, as part of a photography project, she embarked on a container carrier traveling from Haifa, Israel to New Jersey, US. Documenting her experience as a passenger, she created a body of work affording an intimate insight into life onboard a shipping vessel. This was the starting point for developing the Container Artist Residency.
Container takes artists onboard commercial container carriers along existing international shipping routes. Hosting artists in the ships' available cabins, this backstage pass provides firsthand encounter with maritime shipping. Container challenges the traditional idea of studio residencies and invites artists to work within a unique intersection of industry, culture and technology. The residency's geographic location can only be defined in relation to the various shipping routes and the nexus of destinations that is the backdrop of global trade. Anchored in a context yet without a fixed physical location, Container foregrounds global commerce as the artist's own immediate work environment.