Nature Hike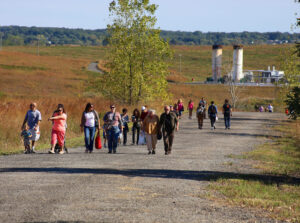 Description: Lace up your shoes for a nature hike at Freshkills Park! Freshkills Park staff will take you behind the scenes to visit areas that are currently closed to the public. On this 2+ mile walk, you'll learn about the different plants and animals found in the woods, wetlands, and grasslands at Freshkills Park.
This tour is donation-based and we suggest a $10 donation per participant, but we understand everyone is in a different position to give and thank you for whatever you can. Your donation supports the education, programming, and research at the Freshkills Park Alliance and makes programs like this possible.
During registration you will be asked about additional participants in your group. All participants under 18 must be accompanied by an adult.
Accessibility: This tour will be an approximately 2+ mile walk. The roads themselves can be uneven at times. If you have any accessibility needs, please let us know in advance so we can best accommodate you.
Plan Ahead: Be "tick aware" and "heat aware." Wear appropriate clothing, including close-toed shoes and sunscreen. Stay hydrated and make sure to bring water with you. All participants will be asked to sign an activity waiver before entering the park. Those under 18 need to have the waiver signed by a parent or guardian and be accompanied by an adult.
Location: We will meet under the solar panel in North Park Phase 1. Gates to North Park Phase 1 are located at 350 Wild Ave (parking lot entrance) and at Schmul Park (behind the baseball field). From here, we will walk together to North Mound.