Fall Sunset Stroll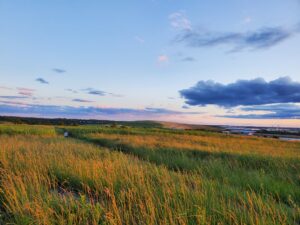 Celebrate the beginning of autumn with a sunset stroll. As the sun dips below the horizon, Freshkills Park comes alive with all the magic of pink skies and sun-tinged grasses. Bring your friends, sweeties, and family members for a sunset nature walk at Freshkills Park!
Freshkills Park staff will take you behind the scenes to visit areas that are currently closed to the public. On this one-mile walk, you'll learn about the different plants and crepuscular animals found in the woods, wetlands, and grasslands at Freshkills Park.
There is a $10 suggested donation per participant. Your donation supports the education, programming, and research at the Freshkills Park Alliance and makes programs like this possible.
Your ticket admits 1 car . All participants must provide their own car that will stay on-site the whole time. Participants may not use a bicycle, taxi or ride-share service. Each ticket holder may bring up to 4 additional guests in their car. During registration you will be asked about additional participants in your car. Due to limited reservations, carpooling with friends and family is encouraged.
Accessibility: We will be walking approximately 1-mile on a gravel trail, which includes elevation and can be uneven at times. An ADA accessible portable toilet will be available at the beginning and end of the walk.
Plan Ahead: Be "tick aware" and wear long pants, close-toed shoes, and insect repellant. Also wear a hat and bring water and a snack. You will be asked to sign an activity waiver before participating in the program. Do not attend if you are sick or have been exposed to COVID-19.
Tickets go on sale September 4 at 10:00 AM