Field Trips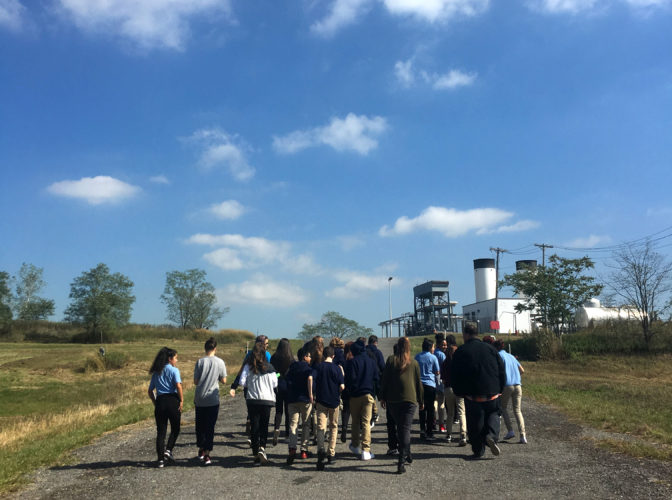 Field trips offer students the unique opportunity to visit sections of Freshkills Park that are currently closed to the public. Because it's no longer a landfill but not yet a park, the land in these closed sections of Freshkills is a living classroom for students to learn about ecology, landscape transformation, New York City history, and sustainability.
To request a tour, fill out our Tour Request Form and a member of our team will be in touch to schedule your visit. Email education@freshkillspark.org with any questions.
Field Trip Information:
All trips to Freshkills Park are free of charge.
All participants, including chaperones, will need to provide a signed activity waiver to participate in the tour.
Trips are about two hours long and available on a limited basis from March – November.
A Freshkills Park educator will lead your group on a walking tour of the park, giving students an opportunity to learn about Freshkills Park's history and ecology. We'll then have a hands-on STEAM opportunities such as nature journaling, prototyping a landfill, or discovering ways to reduce waste.
Trips are available for K-12 schools, universities, and community groups.
Frequently Asked Questions
What happens on a field trip?
Freshkills Park staff will lead groups on a nature walk, where they will discuss the history of Freshkills Park's transformation from a landfill to a park and observe the ecology of the park today. Students will then participate in a STEAM activity at our Mobile Lab, such as nature journaling, prototyping a landfill, or building a food web.
How many students participate in a trip?
To ensure the safety of all participants, groups are limited to 30 students. There must be at least one chaperone for every 15 students. If you would like to bring more than 30 students, you may register for multiple trips. Please note that you would like to book multiple trips in the "Additional Information" section of the Tour Request Form.
How do we get to Freshkills Park?
Transportation must be provided by your school and must stay on-site for the duration of the trip. Freshkills Park staff will meet your bus at 600 West Service Rd, Staten Island, NY 10314.
Is the entire field trip outside?
Yes, both the nature walk and the activities are outside. Because of the elevation and wide open space, the temperature and wind at the park can be  more extreme than in surrounding areas. Please prepare students accordingly. On hotter days, tell students to bring water and sun protection. On colder days, advise students to dress in layers. At all times, we recommend sturdy walking shoes.
What if there is a chance of bad weather?
Field trips will be canceled in the case of inclement weather. If there is a 60% or higher chance of heavy rain, thunderstorms, lightning, or snow, we will cancel the trip by 5pm the weekday before the trip.
Can I customize a field trip?
At this time, we cannot accommodate custom field trips. If you would like to make sure that we talk about a specific element of Freshkills Park, please note this in your field trip request.
Are there bathrooms, benches, or picnic areas?
Freshkills Park is in transition from landfill to park. At the moment, there are no benches or picnicking areas within the  normally closed sections of the Park. There is one single port-a-potty at the start of your tour. In order to make the most of  our time at the Park, we recommend visitors use facilities elsewhere before embarking on their field trip.
Is there a good place to eat lunch?
School groups are not able to eat lunch in normally closed sections of Freshkills Park. However, many classes have chosen to eat lunch at Schmul Playground,  where there are benches and a comfort station. Schmul Playground is a five minute drive from the exit of Freshkills Park. Upon request, your Freshkills Park educator can lead your group to Schmul Playground at the conclusion of your trip.