Group Volunteer Projects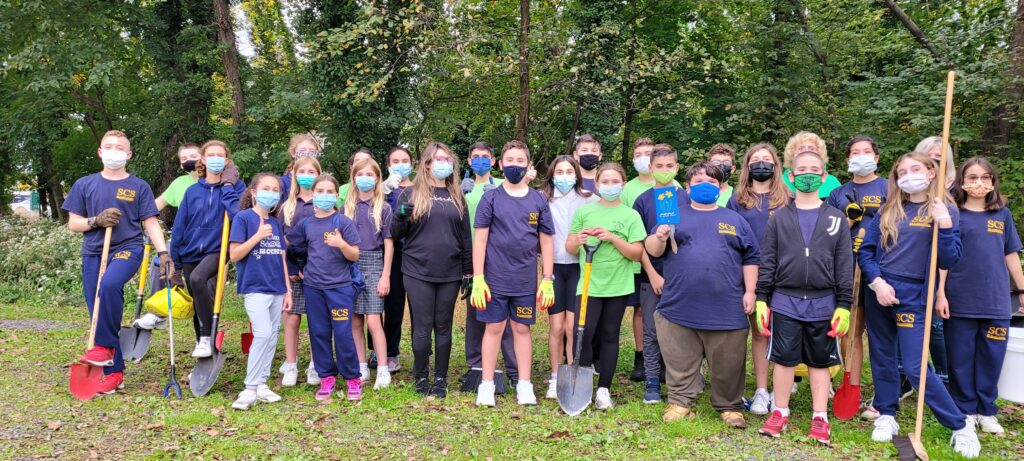 Volunteering is a powerful way for your group to learn about local green spaces and give back to the community. The Freshkills Park Alliance partners with schools and community organizations to offer volunteer opportunities. 
We also have volunteer opportunities for corporate groups. Click here to learn more.
If you are interested in scheduling a volunteer event for your group, review the FAQ below and fill out this form. Our staff will get back to you within 1 week to discuss your program.

Frequently Asked Questions
Where do volunteer events take place?
Volunteer events take place in a variety of areas around Freshkills Park, including Schmul Park, the New Springville Greenway, the Freshkills Studio + Gallery, the Visitors Center, and the Kayak Launch. Our staff will work with you to determine the best location and project for your group.
When are volunteer opportunities available?
Volunteer opportunities are available March- November.
What types of service projects are available for groups?
Projects vary depending on the season and our needs, but can include:
Planting and maintaining a biodiversity garden

Wetland and stream clean-up

Invasive species removal

Painting and repairs

Fundraisers

Tabling and event support
For a list of previous service projects, click here.
Can we have a fundraiser or collect items as part of our volunteer event?
Yes! The Freshkills Park Alliance is grateful for groups that collect items or donations as part of their service day. Some projects, including painting and planting, may require a donation for supplies. 
How many people can participate in a volunteer event?
We can host groups of 8-25 people for a volunteer event. Groups that include minors (children under 18) require 1 adult chaperone per 5 participants. If you have a group of less than 8 people, please sign up for an upcoming public volunteer event.
What are your COVID-19 policies?
The Freshkills Park Alliance follows NYC Parks regulations related to COVID-19. Updated regulations will be shared upon registration. As per NYC Parks policy, all volunteers need to provide proof of vaccination beginning January 2022.
I'm looking for a place to volunteer regularly. Can we plan more than one volunteer event?
Yes! We work with groups to plan regular service days. Please indicate that you are interested in an ongoing commitment on your registration form.
Do you offer volunteer opportunities for corporate groups?
The Alliance also offers customized volunteer projects, either as a one-time event, multiple events, or in conjunction with a sponsorship package.  These events offer an opportunity for team-building while providing tangible benefits to the Park and giving back to the community. Learn more and contact info@freshkillspark.org for more information about becoming a corporate sponsor.
Is there an age limit?
Volunteer opportunities are typically available for children aged 10 and up. We may be able to accommodate small groups of younger children when accompanied by adults on a case-by-case basis. Contact education@freshkillspark.org to discuss.
How do volunteer programs accommodate people with different abilities?
We have many different types of projects available and strive to make service days as accessible as possible. Please note what accommodations you need in the scheduling form and we will make every effort to accommodate your group.
Can we get credit for school service hours for volunteering with the Freshkills Park Alliance?
Yes. 
How does volunteering help the Freshkills Park Alliance?
NYC Parks and the Freshkills Park Alliance have limited staff resources to support projects at the Park. By volunteering at Freshkills Park, you're giving back to the community, connecting with nature, and supporting parks! Previous volunteer projects include planting and maintaining a biodiversity garden, wetland clean-ups, and restoring and hanging bird boxes.