Jade Doskow
Photographer-in-Residence
We are thrilled to announce that Jade Doskow, after four  years of photographic exploration, has been named the Photographer-in-Residence of Freshkills Park in New York City as of 2021. It has been inspiring to watch Jade immerse herself in the site and to see her translate, through large-format photographs, the complexities and paradoxical nature of this radical, highly engineered landscape.  Through her work, she is documenting one of New York City's greatest and most forward-looking infrastructure projects. It is our collective hope that these images will inspire communities globally to assess their own damaged landscapes, and to consider ways to reduce their waste and restore ecological habitats that, while perhaps different from the original, nonetheless create new verdant landscapes supporting diverse flora and fauna.

Oct 10 – Nov 4, 2022, M-F 8am-4:30pm
John Hartell Gallery, Sibley Dome

Oct 14, 2022 at 12:25pm
Abbey and Howard Milstein Auditorium, Milstein Hall

Oct 14, 2022 at 5pm
John Hartell Gallery, Sibley Dome
This series of events is sponsored by Cornell Council for the Arts, Clarence S. Stein Institute for Urban and Landscape Studies, and Department of City and Regional Planning.
The Just Places Lab seeks to illuminate how city planning and visual media can aid in the transformation of public imagination to see urban waste as a resource in the remaking of city futures. With the support of the Clarence S. Stein Institute for Urban and Landscape Studies, Just Places Lab researchers are conducting research and producing visual media – including maps, large-scale graphical posters, and videos – to trace both the impacts of construction and demolition debris and the innovation in deconstruction and reuse of building materials.
In tandem, an art exhibition by artist Jade Doskow will focus on the transformation of what was once the largest household waste dump on Earth into a massive urban park. Just Places Lab researchers will film Jade Doskow's process and observations at Fresh Kills on Staten Island and produce a short video to be shared online in concert with an exhibition.
Both elements of this project are aimed at rethinking city landscapes of waste, including construction and demolition sites and the remediation of a landfill. The public will be invited to re-envision these places associated with waste through the lenses of circular economy and social justice. The production of creative media will be conducted in partnership with the Circularity, Reuse, and Zero Waste Development (CR0WD) network.
This exhibition will elevate the importance of public imagination related to circularity, land use, and waste. In operation from 1948-2001, Fresh Kills Landfill in Staten Island became the largest household garbage dump globally, receiving 150 million tons of New York City's solid waste during that time. Staten Islanders fought to have the site closed for years, tired of living with the noxious odors and the notoriety the site created for their borough. Agreements between the State and City were made in the 1990s to close Fresh Kills once and for all and the last barge of garbage was accepted on March 22, 2001. The only time it was reopened was to accept materials from the World Trade Center tragedy in Manhattan in 2001, rendering a portion of the site historically significant into the future. It was in the early 2000s that the conceptualization of landfill as a wilderness park entered the civic conversation, and thus began a radical transformation. Now known as Freshkills, it is to date the largest landfill-to-park transformation on the planet.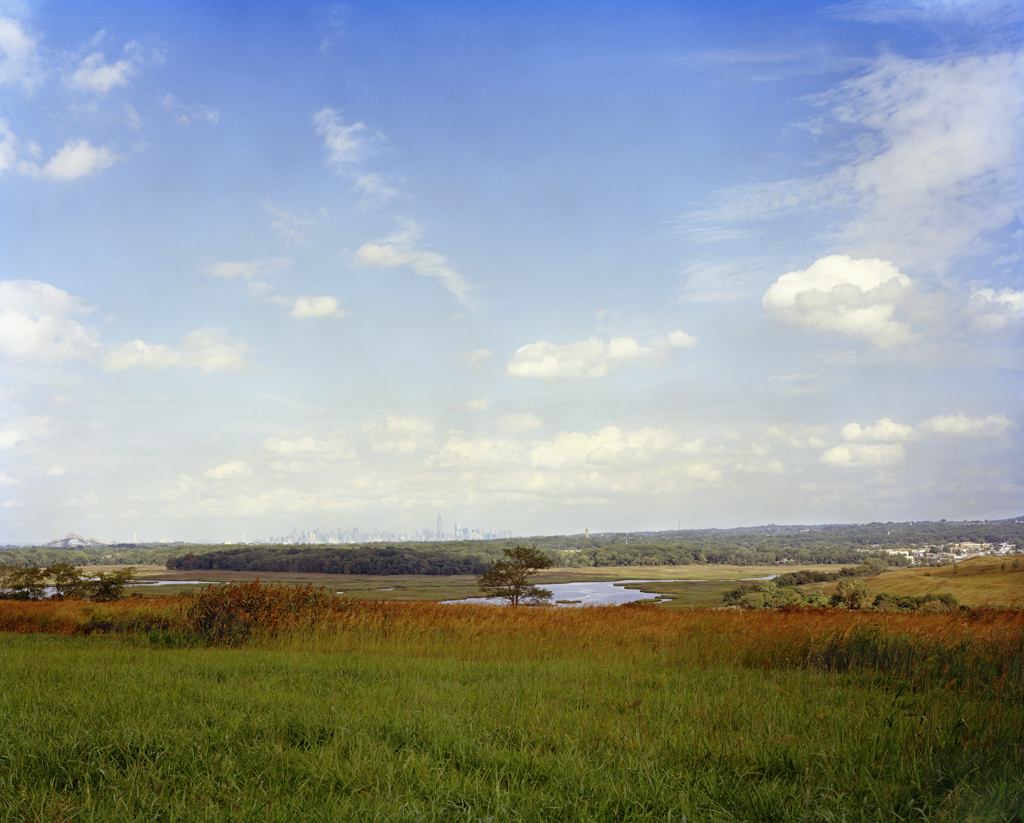 Architectural and landscape photographer Jade Doskow is known for her rigorously composed and eerily poetic images that examine the intersection of people, nature, and time. 
Prior to working within the landscape of Freshkills, Doskow was known for several large bodies of work: Lost Utopias, photographs of the architecture and landscapes from past world's fairs, Red Hook, a 13-year record of her time living in this unusual Brooklyn neighborhood as seen through its vernacular architecture and cityscape, and Architecture of Activism, interiors of the punk-activist-art-community center ABC No Rio in New York's Lower East Side. Throughout her work, a consistent questioning in regard to a utopian/ dystopian clashing within the built environment is brought to the fore.




Based in New York, she holds a B.A. from New York University and an M.F.A.  in photography from the School of Visual Arts. She has lectured and exhibited internationally, including at Cornell University in Ithaca, Forma Meravigli Gallery in Milan, Pratt Institute in Brooklyn, and as part of the School of Visual Arts i3 Lecture series. Press includes  The New York Times, Photograph, AiA Architect, Dezeen,  Athens Voice, Newsweek Japan, The Independent, Smithsonian, Slate, Business Insider, The Atlantic, American Photo, Design Arts Daily, NPR's Picture Show, ArchDaily,  and  Wired.   Doskow is one of fifty international women artists to be featured in the 2018 publication  50 Contemporary Women Artists.  She is the subject of the documentary Jade Doskow, Photographer of Lost Utopias, which will be premiering at the International Center of Photography in October 2021. Her work is represented by Tracey Morgan Gallery in Asheville, North Carolina. Doskow is on the photography faculty of the International Center of Photography in New York City and the City University of New York.
Explore other work by Jade Doskow, Photographer-in-Residence: