Photographer-in-Residence Jade Doskow on her latest Exhibition
This past Fall, the Tracey Morgan Gallery presented Jade Doskow: Freshkills, a new exhibition of photographs taken at Freshkills Park.  The exhibit was on display from September 17 through October 30, 2021.
Doskow's large-scale photographs of the iconic New York City landfill-turned-park make clear its' paradoxical, ethereal beauty, while creating an important archive of a major chapter in the story of New York City's infrastructure. During this time of climate catastrophe, Freshkills Park offers a compelling (albeit complicated and imperfect), ultimately optimistic view of how visionary urban planners can take a landscape that has been completely destroyed and resurrect it, literally transforming the garbage of the U.S.'s most populous city and creating grasslands replete with rare species of flora and fauna, rolling hills dotted with flowers, and waterways once again attracting marine life. As such, Doskow's work asks us: if 2,200 acres of New York City's household waste can be transformed into glorious meadowlands and woodlands, what else is possible?
After she opened her first solo exhibition in Asheville, we asked Doskow to discuss her rigorously composed and eerily poetic images that examine the intersection of people, nature, and time. 
Working with large format photographs, each photograph takes time.  Can you take us through your creative lens and tell us how you selected the ten photos in the exhibition?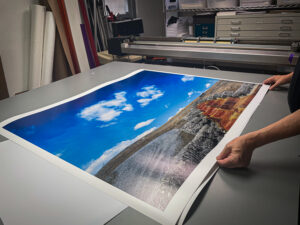 Unlike digital photography, a successful shoot day  at Freshkills with large format film results in 20-30 photographs maximum! For this first exhibition of the Freshkills work, it was important to: show the scope of the work (meaning the full three years of photographs); the systems that enable the landscape to function; the beauty and ethereality of the site; the abundance of flora and fauna; the change of seasons; and the unusual topography. And I wanted to convey all of that in ten pictures! Initially, I selected about 100 photographs, and then my gallerist and I had multiple meetings to arrive at the ten pictures that showed all of those ideas and did so in a visually compelling way. The final photographs had to be really strong, in terms of mood, composition, etc, while also supporting the concepts of the site and the transformation happening there.
Once you select your images, what is the next step and how does it feel when you view your photos on display in a gallery?
I spent five months preparing for the first exhibition of Freshkills photographs that was shown at the Tracey Morgan Gallery in Asheville, North Carolina. After the final selection of ten photographs, my printer in NYC and I spent many hours studying test strips, working on the files, and figuring out how to bring out the truest essence of each photograph. The most difficult photograph was The New Wilderness, in which the forest is reflected in the surface of a pool of rainwater that had collected in the bottom of an out-of-use dumpster on South Mound. We probably spent a collective 40 hours just on that photograph. Each photograph is captured on a 4"x5" sheet of film, painstakingly scanned with a special process called a drum scan, and then worked on in Photoshop, often for many, many hours in between test prints.
After we printed the final exhibition files, they were sent for mounting and framing – so the first time I saw the final prints was in the gallery itself a few days prior to the exhibition opening. Framing is always a huge complication when it comes to photographs. The wrong framing can detract severely from the work on view. The correct framing compliments and becomes one with each piece. We worked with a framer in Asheville who did a spectacular job; each piece was framed with a special dark brown sapele frame with ebony accents, perfectly complimenting the rich color palettes within the range of photographs.
Finally seeing the framed pieces prior to the opening was both exhilarating and a relief. Preparing this exhibition caused me many, many sleepless nights, a lot of stress about the production timeline, the perfection or not of the final pieces, etc.. On opening night, the photographs emanated a glow from the gallery walls, truly revealing the otherworldly energy of Freshkills itself. While I have had plenty of exhibitions, this was the most hours I had ever put into the prints.  Freshkills has become the main focus of my work and because it is a huge New York City infrastructure story and a symbol of positive environmental change –profound elements that make the site what it is – it was important to make the most beautiful, compelling exhibition photographs possible. In fact, the first night I slept well was after the exhibition opened!
Can you describe the energy at the Gallery Opening?
It's always a bit of a challenge to know how many people will attend an opening – especially during a pandemic, and especially as I am an out-of-town photographer in Asheville. No less than 15 friends and family joined us for the opening from all over the country, which was wonderful, and additionally many locals and regulars of the gallery attended. There was wonderful energy at the opening. Many people commented that they had 'never seen photographs' that looked like this, as the works were 'so akin to 19th century oil paintings'; the reaction was overwhelmingly positive.

How do your images inspire individuals to assess their view of damaged landscapes, and of waste in general?
There is no undoing what humans have done to the environment globally. We are here and now and this is what it is. I see the archive of work I am creating at Freshkills as a reflection of the optimistic nature of a site that had been damaged and is now a symbol of what is possible – in this case, glorious meadowlands literally flourishing upon mounds of New York City's garbage! I am hopeful that, with the widespread exhibition of these photographs, other communities and cities will be inspired to corrective action in their respective regions of the world – be that cleaning up garbage, using less plastic, or planting more trees and native plant species.

How did your photographs of Freshkills Park resonate with patrons who weren't familiar with or in any way directly connected with the Fresh Kills landfill?
Most, but not all, of the people who see the Freshkills photographs are familiar with the history of the site. Seeing as the current cultural conversation is so focused on the climate catastrophe, visitors to the show easily understood the implications of Freshkills and were able to connect to the systems at the site based on the selection of work on view, which included both grand, epic landscapes, as well as photographs of the leachate treatment plant and landfill gas flare stations.
What advice would you give to someone who's just getting started with landscape photography?
Study the great historical figures in landscape work: Carleton Watkins, Ansel Adams, Elliot Porter, as well as contemporary landscape photographic artists – Robert Adams, Richard Misrach, An My-Le, Sally Mann. Great landscape work is both conceptual and gorgeous. If the light is not good – wait for the light to change. Don't rush. Use a tripod. Use a low ISO and high F-stop.
Can you share any updates on upcoming projects/publications of your work?
Coming up this month will be a beautiful, printed portfolio of Freshkills work – most of it never-before-seen- in the Virginia Quarterly Review (VQR – ordering information through their website here with  incredible text by the award-winning writer Cal Flyn. I'll also be discussing aspects of the Freshkills work as well as my photography career on an upcoming episode of the podcast 'Artisans and Trade'. Another series, photographs of the Brooklyn neighborhood of Red Hook, Brooklyn, will be featured in the New York Times in January/ February. I see this series of work as a precursor to the Freshkills photographs in that it reflects long-term change in a specific New York City location. And lastly Philip Shane's documentary film about me and Lost Utopias,  ­my photographs of out-of-use or modified world's fair sites, will be presented at the School of Visual Arts in February. (you can see the trailer here  During that show,  I will be in conversation with the fantastic photographer Andrew Moore, discussing landscape and architecture photography and Freshkills Park will most certainly  be a big part of the conversation!
Jade Doskow: Freshkills Exhibition
Explore Jade Doskow, Photographer-in-Residence Work Further