Sneak Peak: a spectacular day, in review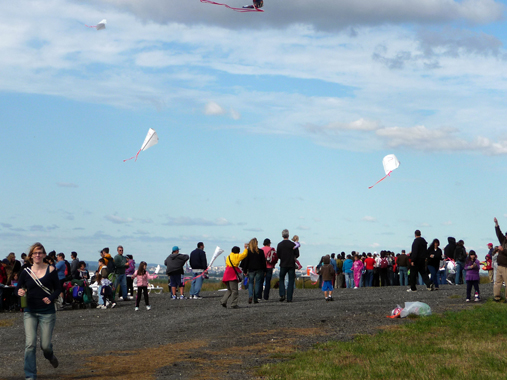 Sneak Peak was a huge success!  About 1800 people joined us at the Freshkills Park site on Sunday to make and fly kites, canoe in the creeks, walk the site with an expert, ride a pony, pet a goat, make a bag or a birdhouse, learn about composting and recycling and energy efficiency, receive a free bike helmet or fitting, enjoy the fun music, cool crafts and awesome food and generally celebrate the potential of this fascinating and amazing site.  The weather was incredible, and everyone was in good spirits.
To be honest, 1800 was a much bigger crowd than we anticipated for this event.  Never having held an event at the Freshkills Park site before meant that we had no baseline to gauge real participation.  We were astonished and energized by the volume of enthusiasm and interest in the park project, and we loved to see what a great time visitors were having.  We're already looking forward to the next big event we can put on at the site.  More on that as it develops.
We've uploaded our own photos to flickr, but these definitely don't get at everything there was to see.  There were so many people with cameras, and we would love to see—and to share—those photos!  Please share them with us, either by e-mail or by adding your photos to our flickr group pool for Sneak Peak.