At Sneak Peak: First-ever public canoe tours!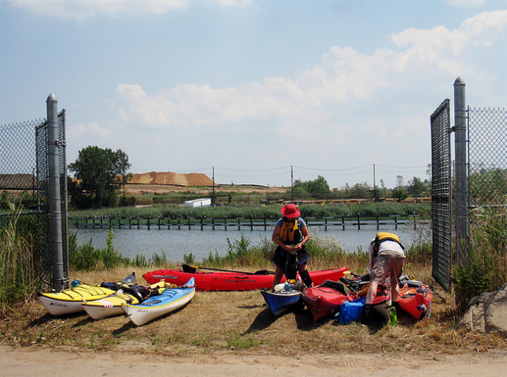 New York City has seen a surge in recreational access to urban waterways over the last 15 years.  There are active canoeing and kayaking outings in the Hudson River, the Bronx River, Jamaica Bay, even Superfund sites like the Gowanus Canal and the Newtown Creek.  We've had a ton of interest from recreational boaters about navigating the creeks at the Freshkills Park site, but we haven't been able to accommodate them in the past.  But we've been inching along toward that goal.  Since our first staff canoe tour last October, we've held a second tour for boating advocates, and this Sunday will be our first batch of public canoe tours *ever.*
These won't be grand tours of the site: to be able to host four of them over the course of the event, the tours themselves will only be out on the water for about 30 minutes. But we think they'll still be pretty terrific.  The tours will venture out into Main Creek, between North and East Mound, and will be led by the Parks Department's Urban Park Rangers, who will also provide water safety instruction.  Ages 8 and up are welcome.
These will be popular tours.  On-site, day-of registration for all tours is required, and if you're really keen on securing yourself a space on a canoe, it's a good idea to get to the event closer to the beginning to put your name in.  There will be four tours, at 11:15 am, 12:15 pm, 1:45 pm and 2:45 pm.