Chasing Sanitation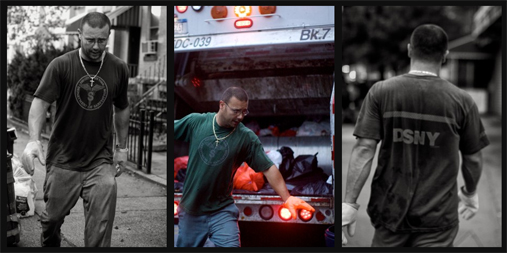 Chasing Sanitation: Falling in Love with New York's Strongest is a series of portraits and interviews with New York City Sanitation workers produced by writer Lisa Dowda and photographer Liz Lignon over the past two years.
Sanitation Workers – they're not saints. But they made a choice for their families and for themselves. And they were there after the attacks, and they'll be there next Monday morning. And through the last century, the fight continues against the stigma of one of our most essential civil service agencies. Still, the job, the snow, the trash – it gets done.
The stories are funny and humanizing peeks into the lives of a labor force that, as Dr. Robin Nagle writes, "is absolutely essential to the city's very existence but that gets little love from the larger world."  The website went live this summer as the authors search for a publisher to make their project into a book.