Freshkills Champions Bicycling
While NYC is on PAUSE, New Yorkers are turning to biking as a safe mode of transportation and exercise. Biking provides an opportunity to immerse oneself in nature while adhering to social distancing guidelines.
As Freshkills Park opens its 2200 acres in phases, bike-friendly infrastructure and programming are central. The latest completed project is the New Springville Greenway. Completed in 2015, the Greenway was built as cities across the country developed their bike networks in pursuit of a more sustainable urban system.
The 3.2 mile multi-use path was built along the eastern edge of Freshkills Park to serve as a future connection to the park and provide an off-street pathway for bicyclists, runners, and pedestrians. The Greenway runs from Signs Road and Park Drive North to Travis Avenue, then travels along Richmond Avenue, crossing at Forest Hill Road and continuing to Arthur Kill Road. Near the southern end of the trail, at Richmond Avenue and Forest Hill Road, the bike ride will connect to the Staten Island Greenbelt's Multipurpose Trail, which heads east towards LaTourette Park and spans 2.6 miles.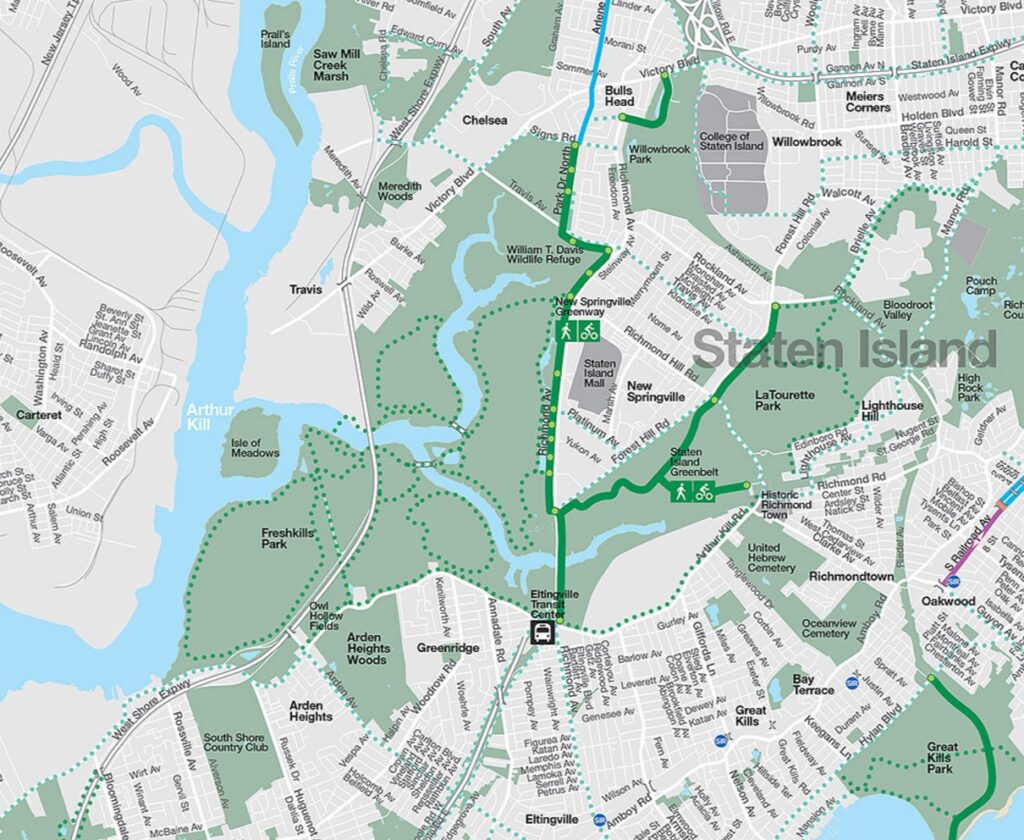 The Greenway incorporates sustainable bio-swale design and construction throughout.  This project was made possible with the support of a Congestion, Mitigation and Air Quality (CMAQ) grant from the Federal Highway Administration. For details on how to visit the New Springville Greenway, see DOT's 2020 New York City Bike Map.
On Discovery Days, visitors take advantage of free bike rentals to explore the 4-mile loop around East Mound. Freshkills partners with Transportation Alternatives to include this loop in the Annual Tour De Staten Island's 35 and 50 mile tour. And we're modifying topography and adhering to soil requirements for pathway construction in North Park to make the area bike-friendly.
If you visit the Greenway, be sure to check out Freshkills Landscape Architect Andrew Deer's favorite places. In his words, "This bucolic setting transports one to a place far beyond a dozen feet from the busy Richmond Avenue."
Upcycle your time with Cycling (or walking)!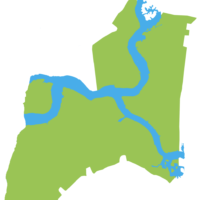 The city is working hard to open more lanes and streets for bikers, pedestrians and children to provide more accessibility to nature.  Did any of your favorite characters learning to ride bring back memories or inspire you to get out and ride?  Maybe, cycling isn't your speed and multi-use paths are better used for nature walks.  If you're on a nature walk, don't forget your mask, binoculars and Freshkills Greenway Bingo.