From Behind the Mounds: Park Planning at the 18th Annual Green Horizons Conference
Late last month, Freshkills Park held a workshop at NYC's Green Horizons Conference for Middle School students. Students and volunteers gathered on what began as a rainy, blustery day in nature to learn about different careers in Natural Resources and the Environment at Snug Harbor Cultural Center and Botanical Garden.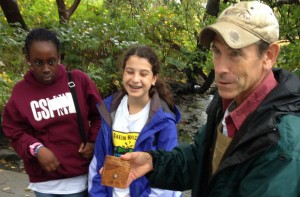 Now in its 18th year, the Green Horizons conference is designed to expose students from throughout NYC to environmental careers and is held annually. This year Green Horizons brought in 164 students from all over the city.
Freshkills Park Administrator Eloise Hirsh kicked off this year's event as the keynote speaker. Her presentation showed how the landfill was transformed into a park as well as the different types of professionals that are involved with the development of Freshkills Park. Students were given an idea of how many different types of skills and careers it takes to build a park.
After the presentation students participated in a workshop they had pre-registered for. Workshops were organized by fifty professionals from different projects and careers and students were encouraged to ask questions. Many of the workshops prompted students put their knowledge to practical use and aimed to show students how interesting and rewarding green careers can be.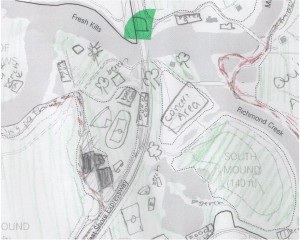 Some students learned about weather monitoring with balloons and other students created solar powered cars. With Freshkills Park staff, students became park planners in the "Creating a Plan for the Land" Workshop. Each student was given a blank map of the park and students were asked to think about what they would put inside Freshkills Park. As students imagined the future, the weather cleared up and revealed beautiful blue skies.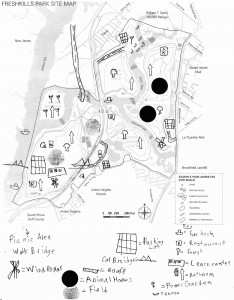 During the workshop students came up with ideas ranging from solar powered light fixtures and nature preserves to attractions such as amusement parks and fine dining. Most importantly, the students were asked not just to think about what they wanted in a park, but what their grandparents would want, their parents, their little sisters or brothers, and exercised thinking about the community as a whole. One participant in the workshop Michael Mantello of Pleasant Plains told the Staten Island Advance in an interview that his "favorite part of the event was creating a map of Freshkills Park in the future. Designing my own plan for Freshkills Park helped me realize how simple it was to make a difference in my community. I learned a lot from Green Horizons and look forward to attending again in the future." Read the Staten Island Advance's article about the event here.
We look forward to seeing the work these young planners produce in the future.