Farther Afield: A Closer Look at Regenerative Landscapes
The massive transformation of what was once the world's largest landfill into a 2,200-acre New York City Park is unique in many ways, but fits a typology of regenerative landscape design that has become a more common practice in response to shifts in global urbanization. Prompted by a feature on land recycling in the industry newsletter CADdetail, we take a closer look at projects around the globe that have been compared to Freshkills Park. These different designs remind us of the creative ways in which marginalized areas across the globe can be transformed into sustainable and beautiful spaces.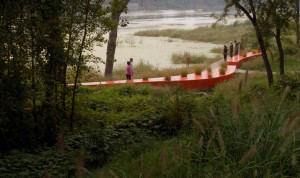 In Qinhuangdao City, China, Tanghe Park once consisted of abandoned irrigation structures and trash. The Beijing-based landscape architecture firm Turenscape was charged with transforming this bleak river corridor into a park. The firm wanted to preserve as much of the waterfront as possible, while also creating a usable urban space. Their solution: create a snaking half kilometer multi-function bench as the park's focal point. This bright red bench, known as "the red ribbon" serves as lighting, seating, environmental interpretation, and orientation while minimally impacting the landscape. Thanks to this sleek design, the waterfront remains a natural environment, while also serving the local community.
Alcatraz, the infamous island set in the middle of San Francisco Bay, evokes images of prisons and Al Capone rather than of gardens. However, gardens were carefully cultivated by a succession of wardens, families of correction officials, and even inmates, who sought to transform the craggy island through gardening. After the prison closed, the gardens were left to fend for themselves for almost half a century. Then, in 2003, the Garden Conservancy and Golden Gate National Parks Conservancy teamed up to rehabilitate this essential part of the island's history. Now the Gardens of Alcatraz, full of old roses, fig trees, and succulents, can be appreciated by a new generation of visitors.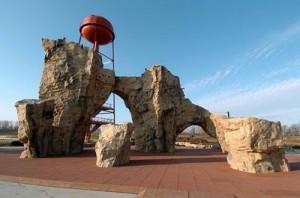 Home to wetlands, trails, and the country's largest free outdoor climbing wall, Scioto Audubon Park in Columbus, Ohio was not a likely park space. As an old landfill, industrial park and rail yard, this site posed many challenges to the landscape architecture firm Kinzelman Kline Gossman. The firm decided to use CADdetail's Rosetta hardscapes for the retaining and freestanding walls required in the center of the park. This material is both durable and environmentally friendly, as the aggregate and sand used to make the Rosetta blocks can be mined locally. Due in part to this creative use of local materials, the park has been recognized by the American Society of Landscape Artists, the U.S. Environmental Protection Agency, and the American Council of Engineering Companies for its radical and playful transformation of a brownfield site.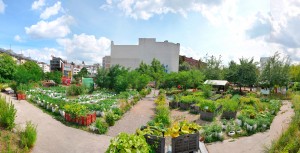 With a name right out of a fairytale, Prinzessinnengärten, or Princess Garden, is one of the largest and most talked about gardening projects in Europe. Located in unused lots in Berlin, the non-profit group Nomadisch Grün (Nomadic Green) rents this land from the city. As the city only allows for temporary leasing, the group decided to create a mobile garden, where everything is grown in shipping containers, disused rice sacks, and other portable materials. The garden is self-sustained through the on-site café, the sale of garden produce, and funds from environmental education programs and events. It has become a major attraction, with over one thousand volunteers helping out each year.