This Holiday Season, Support the Park's Momentum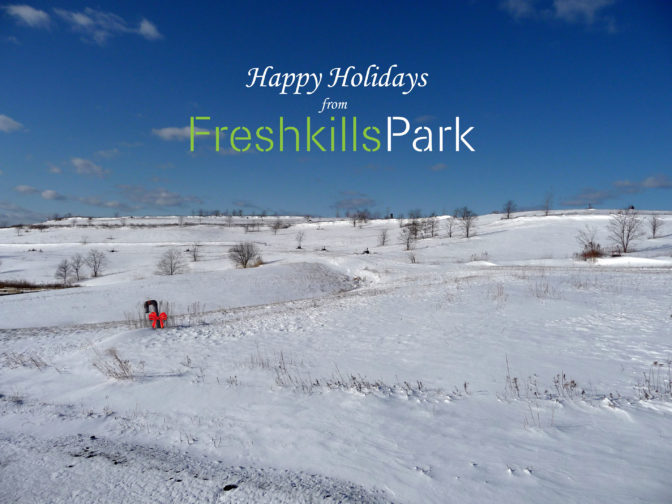 Dear Friends:
This year's $30 million funding for the Mayor's Anchor Parks initiative is a wonderful recognition of the progress we're making as Freshkills Park continues to take shape. The Anchor Parks project, now entering design, will focus on South Park. The first phase of North Park has been bid and is going to construction in early 2017. East Park design continues to move forward.
These projects underscore the steady capital development of the site. But it is your support that is making the Park come alive now! Your contribution to the Freshkills Park Alliance helps fund the array of opportunities that make this "closed site" accessible to the public.
Over 12,000 people experienced Freshkills Park in 2016 through our programs in education, arts, science and recreation. Kayaking, bicycling, and hiking continue to attract visitors from all five boroughs. Thanks to an increase in grants, we have expanded our performance offerings, skill sharing workshops, and art installations. "Landscape in Motion," a photography exhibit organized with the Staten Island Advance and Staten Island Arts, presented winning photographs at the Culture Lounge in the St. George Ferry Terminal. Research projects and academic partnerships now cover grassland birds, fish populations, water quality, and habitat studies. Our education curriculum includes more experiential place-based learning for students during their field trips to the site, and we have created a mobile education laboratory to expand our offerings, reach and impact.
Your support will help make it possible for the Freshkills Park Alliance to maintain the art, research, education, and recreation programs. If you would like your donation to go toward one of these programs in particular, please note that with your contribution. Donations can be submitted through our website or via check to the Freshkills Park Alliance, PO Box 719, New York, NY 10272.
Happy Holidays, and peace in the New Year.
Eloise Hirsh
Freshkills Park Administrator & Freshkills Park Alliance President