Ideas for the Anchor Parks Project at Freshkills Park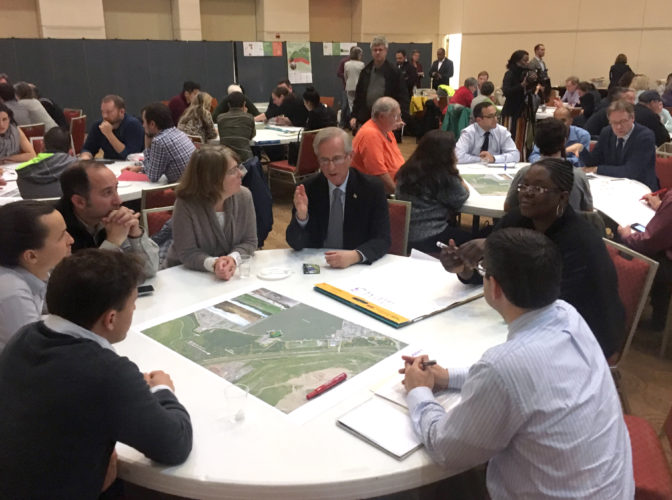 Community visioning for South Park at Freshkills Park has begun. This section of the park will receive $30 million through New York City's Anchor Parks program to provide new access and amenities, and visioning is the first step in developing a plan for what will be constructed. In spite of torrential rain, 80 people attended the November 30 visioning session at the Jewish Community Center in Staten Island to learn about the initiative and discuss their ideas for South Park.
The Anchor Parks program is a major investment in five large, diverse parks across the city. One park in each borough – St. Mary's Park in the Bronx, Betsy Head Park in Brooklyn, Freshkills Park in Staten Island, Astoria Park in Queens, and Highbridge Park in Manhattan – will receive funding for major capital advancements. This fall, NYC Parks has scheduled meetings in communities closest to each Anchor Park to get input on what they would like to see in these areas.
At the November 30th meeting, Staten Island Borough Commissioner Lynda Ricciardone welcomed everyone and introduced Commissioner Mitchell J. Silver, who provided remarks about the impact this initiative will have on communities surrounding South Park. Deputy Borough President Ed Burke was also present and talked about the importance of active recreation. Adrian Smith, Staten Island Team Leader for the Capital Projects Division, gave a presentation about the project and shared possible sites within South Park to build new amenities. Smith also explained some of the environmental and regulatory issues that were considered as part of the site and amenity selection process. For example, because Freshkills Park is being built on a former landfill, landfill safety features must remain untouched. The new park should connect to Owl Hollow Soccer Fields and its design should take into consideration traffic on Arthur Kill Road and Arden Avenue, as well as any potential effects on adjacent neighborhoods, such as traffic or excess light.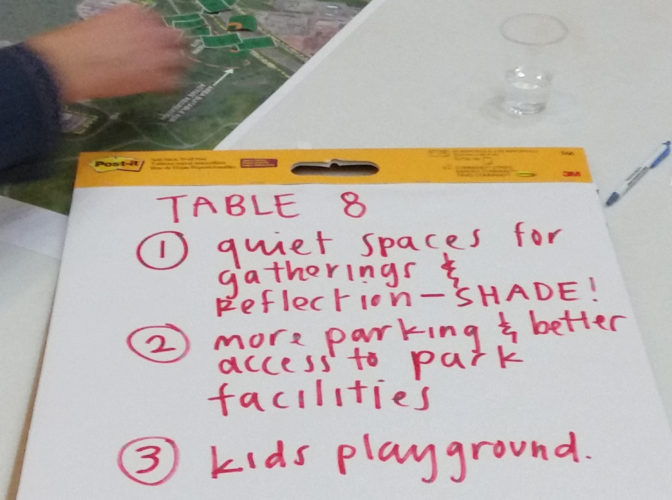 After the presentation, small groups of community members worked with facilitators, note takers, and maps to discuss what they would like to see at the project site. Many people indicated they would like to see multipurpose trails for running, hiking, and biking that connect with Owl Hollow Soccer Fields and nearby trails. There was also a high level of support for softball and cricket fields. A number of participants wanted to see gathering spaces for people of all ages, such as an amphitheater or sitting areas along the pathways. Safety was a big concern, and many people voiced an interest in having new park areas developed farther away from the traffic on Arden Avenue and Arthur Kill Road. Parking lots and a comfort station were also big priorities.
If you didn't make it to the meeting or if you would like to submit additional comments, you can share your thoughts online until December 14. Visit www.nyc.gov/parks/input. Comments from the community will be submitted to landscape architects Starr Whitehouse, and another meeting will be scheduled this winter for the public to review the conceptual plan.
Thanks to Deputy Borough President Ed Burke, Congressman Donovan Representative Pat Ryan, Council Member Matteo Representative Rose Kourani, Council Member Borelli Representative Michelle Landi, and Assembly Member Castorina Representative Rick Livan for attending and showing support for the project.