Preview Freshkills Park, Sunday, October 3rd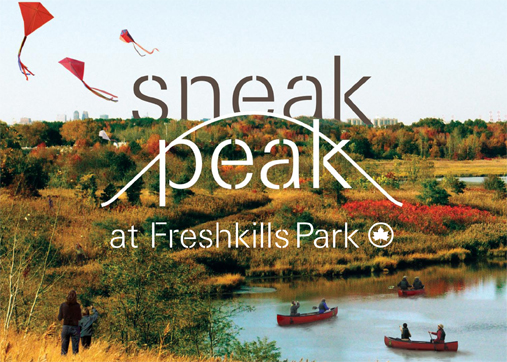 We've been hard at work putting together the first open, public event EVER at the Freshkills Park site, which will take place Sunday, October 3rd!  'Sneak Peak at Freshkills Park' will not only be a chance to see the site's hills and wetlands in all their autumn glory, it will also be a hybrid kite festival/street fair/series of special site tours!  You and everyone you know are invited.
We'll be offering a slew of programs over the course of the day: guided walking tours with a host of experts, canoe tours, birdwatching tours, kite-making and kite flying, workshops on composting and recycling, birdhouse building, free giveaways, children's games and attractions, live music, food and more! A full program schedule, along with a list of our program partners, is available on the event's listing page.
This is a free event, and RSVPs are not required, though on-site, day-of registration is required for all tours.  Join us for a preview of what the park will have to offer!
Sunday, October 3rd | 11 am to 4 pm | FREE EVENT
Directions by public transit, bike & car available on the event listing page.
E-mail doug.elliott@parks.nyc.gov or call (212) 788-8277 with questions.