Garbage installation+panel on the LES, this Sunday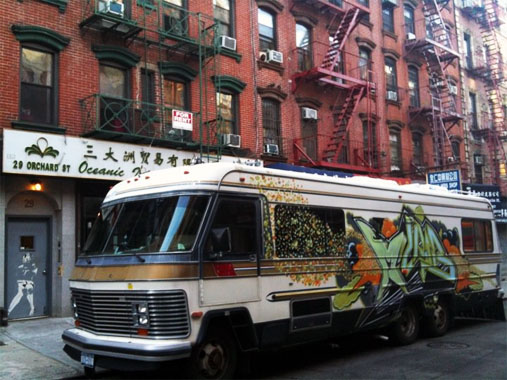 Landscapes with the Fall of Icarus is a two-week performance installation by artist Paul Lloyd Sargent for the the Mobile Literacy + Art Bus (MLAB), a collaborative project of art and architecture students at Syracuse University. From 2007 to 2008, the team converted a 1984 Recreational Vehicle into a mobile classroom, digital photo lab, gallery space, and community center for use by the Syracuse City School District and the greater Syracuse Community.  And now they're on the road—at 29 Orchard Street in the Lower East Side, specifically, for the month of September.
Landscapes is a three-part project: a community trash clean-up and resulting 'trashmap' of the surrounding area; a series of extreme close-ups of neighborhood garbage taken by the artist and on display in the MLAB RV, and a panel event featuring artists, writers and activists talking about garbage issues in New York City and beyond.  Tthe panel will include Department of Sanitation Anthropologist-in-Residence Robin Nagle and blogger Leila Darabi of everydaytrash.com.
Panel discussion on the waste disposal chain
Sunday Sep 19th, 2010 | 2–4pm
29 Orchard Street, Manhattan