Part of Your World: From Trash to Treasure
Freshkills Park, once the world's largest landfill, has been reclaimed and transformed into native grasslands.  Landfills are not a sustainable technique for managing our waste and we need to explore alternatives for reducing our household waste streams to minimize and eventually eliminate the need for them.  Like transforming a landfill into a park, one such option is upcycling, which involves the reuse of discarded materials to create new ones.  It is a creative opportunity to add value and longevity to items that have been deemed trash. The result is a two for one solution, reduced waste and a reduced demand for new goods.
Many of us miss spending time outside while social distancing. To help bring the outside in and spark conversations about human-nature interactions, Freshkills Park staff are watching environmental movies, or "FreshFlicks." This week, we are watching Disney's "The Little Mermaid" and talking about the art of upcycling.
Freshkills FreshFlicks of the week is The Little Mermaid
In "The Little Mermaid", we follow the story of a musically inclined upcycling mermaid named Ariel.  Ariel hunts for what she thinks of as ocean treasure, although it happens to be human trash. However, to an upcycler, finding value in waste is an exercise in creativity.  Why can't a fork operate as a comb?
Her grotto is decorated with her recovered wonders, which she calls gizmos, gadgets, whosits, whatsits and thingamabobs.  The items she recovers highlights some of the environmental impacts of household trash and the way in which discarded items find their ways into places one might not expect.   But as an upcycler, unfamiliar with the ways of humans, Ariel appreciates the items and attributes value and purpose where others could not.  Upcyclers need to be able to see discarded items with a fresh eye to give them a new purpose.
Ariel was somewhat successful demonstrating how a "dinglehopper" could be used as a comb but was less successful making music with the "snarfblat".  A metal pipe might not produce the best music, but there are many opportunities to make your upcycling efforts resonate.  There is a children's orchestra in Paraguay that uses instruments made from landfill trash.  In a town where a violin costs more than a home, making instruments from common items creates opportunity.  Orchestra director, Favio Chavez said "The world sends us garbage…we send back music." Their story can be followed in the documentary "Landfill Harmonic".  Like Ariel, they collect discarded items and find opportunities to reuse them and add value.
Freshkills Park, as an upcycled land project, is also a model for waste reduction, arts, and upcycling.  By way of example, during Discovery Days at the park, guests are invited to make wind chimes.  These wind chimes are made from recycled items donated by Materials for the Arts and the activity is led by artist Skip LaPlante, who also creates instruments out of trash.  Upcycling asks us change how we look at trash.  So next time you see a discarded item, channel your inner Ariel and ask instead, "How can I use this or make this beautiful?"
Upcycle your Stream with STEAM!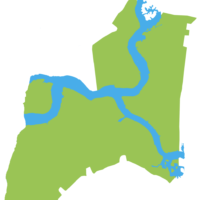 Share your favorite quote, scene or personal connection to The Little Mermaid on Social media using #FreshkillsUpStream
Check back this #WasteFreeWednesday for an upSTREAM tutorial making windchimes with upcycled materials around your home.