What is in NYC's Trash?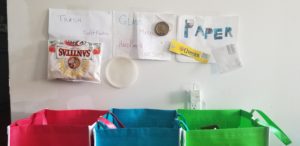 Picture this: You're finishing up a carton of milk. You pour out the last drop and rinse it out. Then, you walk over to your home recycling station to decide where the carton should go. Trash? Paper and cardboard? Glass, metal, and plastic?
If your answer was "I don't know," you are not alone. Recycling in New York City is a complicated process, and many New Yorkers, at home, in schools, and at work, make mistakes when they choose the bin. The New York City Department of Sanitation, in addition to keeping the city clean, works to understand the waste stream so New Yorkers can reduce their waste and improve their recycling. Waste characterization studies allow cities to learn what's in their trash, plan education and policies to reduce waste, and determine if those policies are working.
In 2017, the New York City Department of Sanitation conducted a waste characterization study examining household and school trash in the city. They conducted similar studies in 1990, 2005, and 2013, allowing comparisons across time.
For the 2017 study, 810 samples were taken across all five boroughs, consisting of paper recycling, MGP (metal, glass, and plastic) recycling, organics collection, and trash, or "refuse". The materials were sorted and categorized – some of the sorting even happened at Freshkillls Park in former Fresh Kills Landfill warehouses!
The results of NYC Sanitation's 2017 study showed that New Yorkers are producing less waste at home than in previous studies, but 68% of what is thrown away in refuse belongs in curbside organics or recycling bins. This means that only a third of what we put in the "trash" actually needs to go there, and two-thirds of it could be recycled or composted. We have a lot of room for improvement!
The largest category of items thrown into the trash is organic waste, at 34%. This category includes things like yard waste, food waste, and food-soiled paper. As the largest category of waste, it also represents the largest opportunity for waste reduction by diverting this type of material to composting. In Staten Island, curbside composting is brought to the Staten Island Compost Facility, which is located on part of the former Fresh Kill Landfill property, next to Freshkills Park.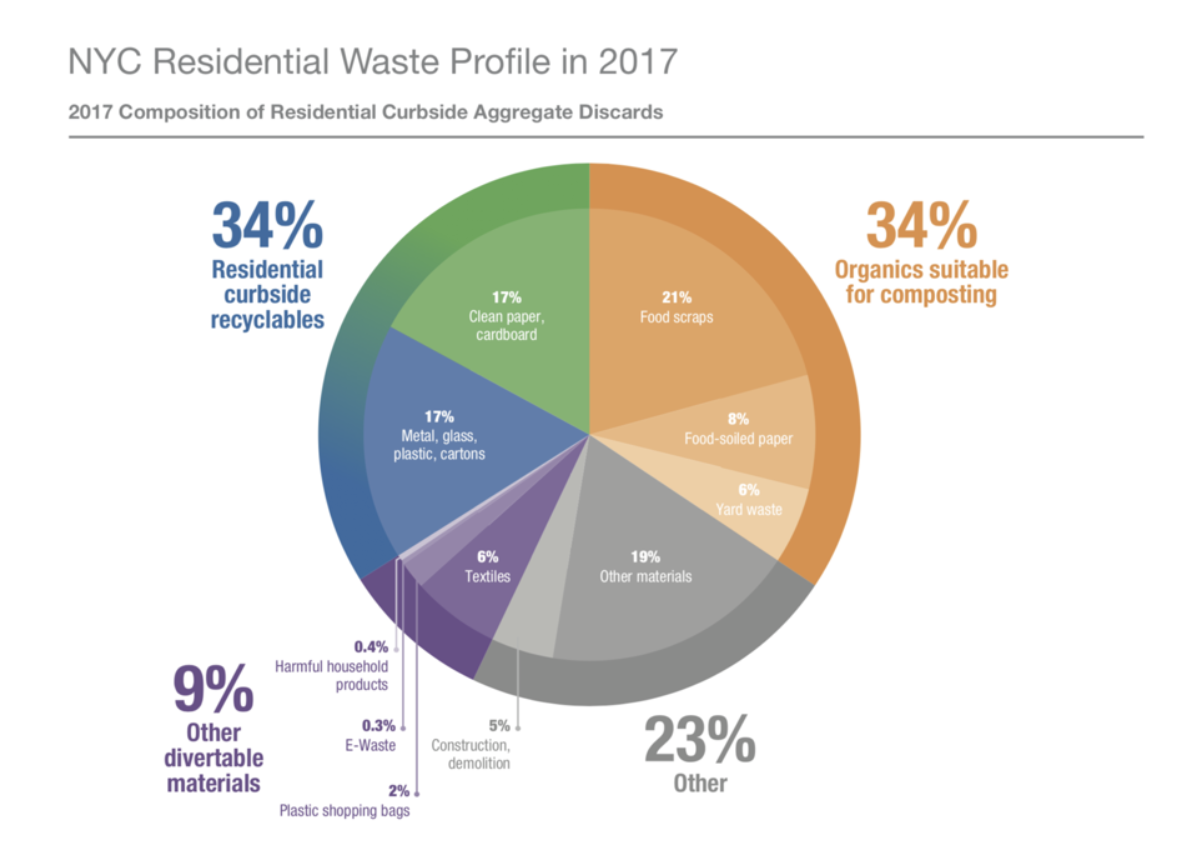 New Yorkers are best at recycling cardboard (79%) and worst at recycling aluminum (only 15%). The most often miscategorized type of material was cartons (such as milk cartons and juice boxes), which should go in MGP recycling but are often miscategorized into cardboard recycling. Keep that in mind when you set up your recycling station!
The results of the 2017 study highlight the importance of composting. Even if you do not have curbside organics pick up where you are in the city, there are many locations where you can drop off your organic waste. GrowNYC has many collection sites across the city, as does the Lower East Side Ecology Center.
During this period of the COVID-19 pandemic, many of the composting options in NYC, including curbside pick up and drop off sites, are unfortunately no longer available. We of course hope that these options will return in the future, but in the meantime it is best to look up what options currently are in your neighborhood and if those are suspended during this time.
What we do with our "waste" can have a big impact. As we mentioned in our blog post earlier this week, since the closure of the Fresh Kills Land Fill, NYC ships its trash to other landfills and waste-to-energy plants as far away as South Carolina. By composting, recycling, and reusing materials, we can reduce many of the negative impacts of our waste production.
Upcycle your STREAM with STEAM!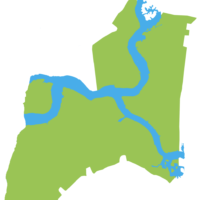 Share your thoughts, reactions or questions to waste management and reduction, or WALL-E on social media #FreshkillsUpStream