Farther Afield: Gazing Globes at Madison Square Park
If you haven't yet visited Paula Hayes' Gazing Globes at Madison Square Park, I highly recommend a trip to 25th street around dusk before the exhibition closes on April 19th. Hayes' first public art exhibition in NYC comes alive as the sun starts to set over the city. From 6:00-7:00pm the tops of buildings are illuminated by bright setting light and Madison Square Park is left in twilight. Simultaneously eighteen gazing globes, polycarbonate orbs resting on white fiberglass pedestals, begin to light up. Inside each globe is a unique and futuristic landscape created from vintage electronics including old transistors, glass vacuum tubes, and finely crushed compact discs. The globes are lit from within, giving each sculpture a mystical and otherworldly sensibility.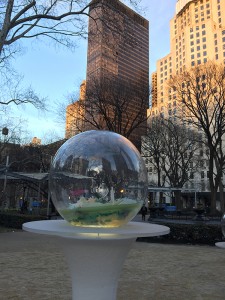 Although Hayes' orbs look like something out of science fiction, gazing globes have been used as decorative objects for thousands of years. The concept is said to have originated in Venice in the 13th century where globes were made from hand blown glass. The cultural significance of gazing globes has taken many forms throughout the centuries. It was once believed that these globes held special powers and were able to both attract fairies and magical spirits and ward off disease, evil spirits, attackers, and ghosts. In the 18th century it was imagined that if a witch saw their reflection in a hanging gazing globe, then called witch ball, they would either be repelled by their own reflection or trapped inside only to be released if the ball was broken. In a New York Times write-up about the exhibition Hayes admits, "I've always been a bit witchy."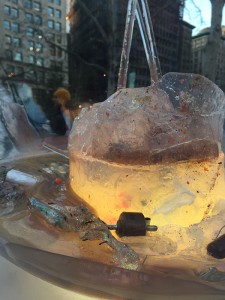 The history and folklore of gazing balls are still very much present in Hayes' own interpretation of gazing globes. Pulverized compact discs are sprinkled over the landscapes like fairy dust and common discarded objects become magical in her compositions. Although the fairy dust is a nod to the past, its iridescent quality gives each landscape a high-tech futuristic sheen. These globes may be inspired by the past but they actually look like alien fairy planets in an alternate universe.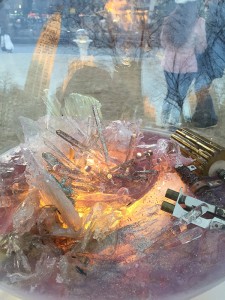 Ultimately the globes are a unique and beautiful way of using repurposed materials in art. Hayes gives old transistors and batteries a life of their own so that they transcend being "up-cycled". Rather than pile up in former landfills these old gadgets create something akin to an electronic museum meets solar system. Between 1948 and 2001 the area that makes up Freshkills Park was home to Fresh Kills Landfill, which held the title of largest landfill in the world from 1986 until its closure. Simultaneously, technologies used to create personal electronics were rapidly improving and computers, game consoles, and portable audio devices were becoming commonplace. In 1984 Apple launched their all in one personal computer. In 1986, the year Fresh Kills officially became the world's largest landfill, Microsoft went public. By the time the last barge of household garbage was brought to Fresh Kills Landfill in 2001, Compact Discs had already replaced cassettes. It's frightening to think about the number of antiquated electronics resting within the landfill mounds that may never decompose. Hayes' sculpture raises questions about how the life of an object with no estimated decomposition time can have another function in our society. We often think of up-cycling as just a way to create new functional objects, but Hayes shows the function of be using up-cycling to create beauty and mysticism in art.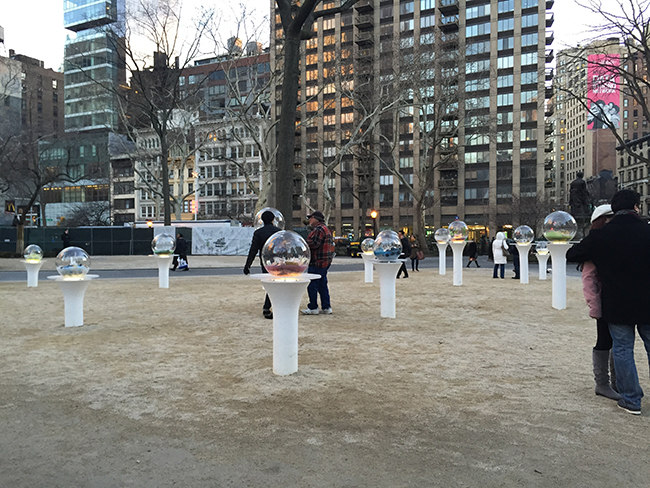 All images by the author (NYC Parks/Freshkills Park).