Design is Underway for Freshkills Park's Anchor Park Project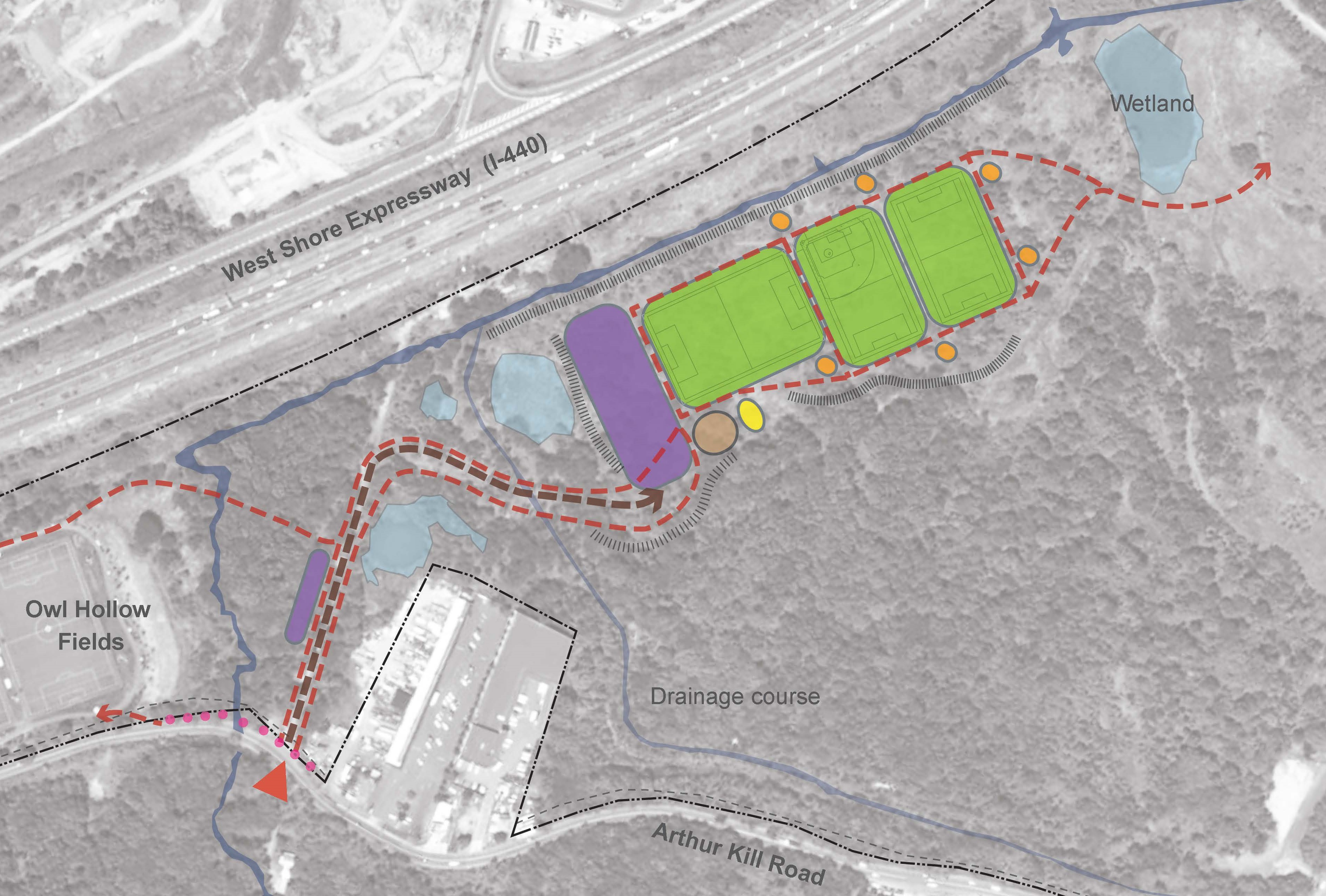 On February 1, NYC Parks held a Community "Report Back" Meeting for the Anchor Park Project. Local residents met at the Staten Island Jewish Community Center to review the top priorities for the new park expressed at the November public scoping meeting and to see the proposed conceptual design for the project.
At 2,200 acres, Freshkills Park was one of five parks in the city selected to receive $30 million in improvements through the Mayor's Anchor Parks program. Each Anchor Park was selected based on historical underinvestment, high surrounding population, and potential for park development. The Anchor Parks program is part of NYC Parks Commissioner Mitchell Silver's Framework for an Equitable Future, a commitment to create thriving public spaces for all New Yorkers.
At the scoping meeting in November, NYC Parks asked the community for help envisioning amenities at two potential sites within South Park, one being to the north of Owl Hollow Soccer Fields and the other to the south. Since then, Park planners determined that the larger and better connected northern site would best meet the needs of the Anchor Parks project.  There are plans to pursue the southern site at a later date.
After the November meeting, designers compiled and analyzed community input, identifying ideas which were of common interest.
Staten Islanders made it clear that multi-purpose fields were a high priority, as well as paths for walking, running, and biking.
The community showed a strong desire to foster connections within and have more interaction with the natural areas of Freshkills Park as well.
Hiking trails, a gathering space with a comfort station, and adequate shade and seating were all highly requested features.
After listening to comments at the February meeting, the conceptual design is now being further developed and will be presented to Community Boards 2 and 3. The final concept design will be presented to the Public Design Commission in early spring, and the capital design process is anticipated to begin in fall 2017.
If you didn't make it to the meeting or if you would like to submit additional comments, you can see the full presentation here and share your thoughts online until February 15. Visit www.nyc.gov/parks/input.