At Sneak Peak: Mierle Ukeles' 'Social Mirror'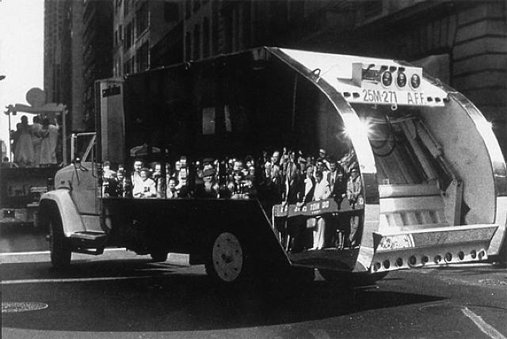 We're thrilled to be able to exhibit Mierle Laderman Ukeles' work The Social Mirror at Sneak Peak this Sunday!  The piece is a 12-ton, 28-foot long 1979 Department of Sanitation collection truck outfitted in mirror glass.  It made its debut in the 1983 New York City Art Parade and was last publicly exhibited at the 2007 Armory Show.
'The mirror captures you, but people are afraid to be caught by it,' said Ukeles, who has been the unsalaried artist-in-residence at the DOS for 30 years and constructed the piece in 1983.  "You're right there, part of the whole deal.  It's about the interrelationship between the people who provide the services and the people that get the services.'
Mierle is not only the Artist-in-Residence at the New York City Department of Sanitation but also the Percent for Art Artist for the Fresh Kills Landfill.  She contributed several proposals to the Draft Master Plan for Freshkills Park and is in process designing the first of her permanent projects that will be constructed at the site, in the South Park section of the site.  The Social Mirror will be a great addition to the weekend's conversation about Freshkills Park  and its capacity to host large-scale public artworks.