At Sneak Peak: Free kites!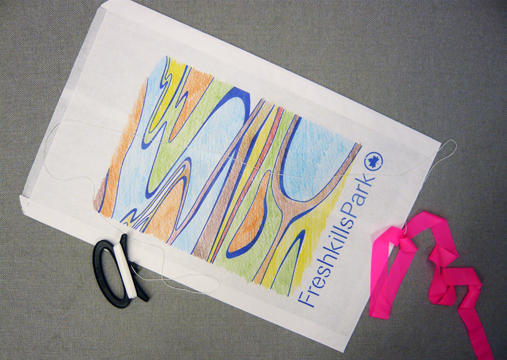 We've been eager to host a kite-flying event at the Freshkills Park site since the very beginning of this project.  The grassy, open landfill mounds soar above the surrounding landscape, not only making them high points with incredible views, but also providing access to some prime wind conditions.  Kite flying at Sunday's Sneak Peak will take place atop what is probably the most scenic of the landfill mounds, North Mound, which offers views of Lower Manhattan, Jersey City, the William T. Davis Wildlife Refuge and its amazing wetlands, landfill closure of the East Mound, the industrial shore of New Jersey and the rest of the Freshkills Park site.  The kite launch point is 150 feet above sea level!
If you don't have a kite to fly already, you can make one!  Our volunteers will be leading guests in constructing free kites from simple kits, based around a paper bag design, that are both kid- and adult-friendly.  We think it will be really spectacular to see all of these kites soaring above the North Mound!