Volunteers Enjoy a Hike at Freshkills Park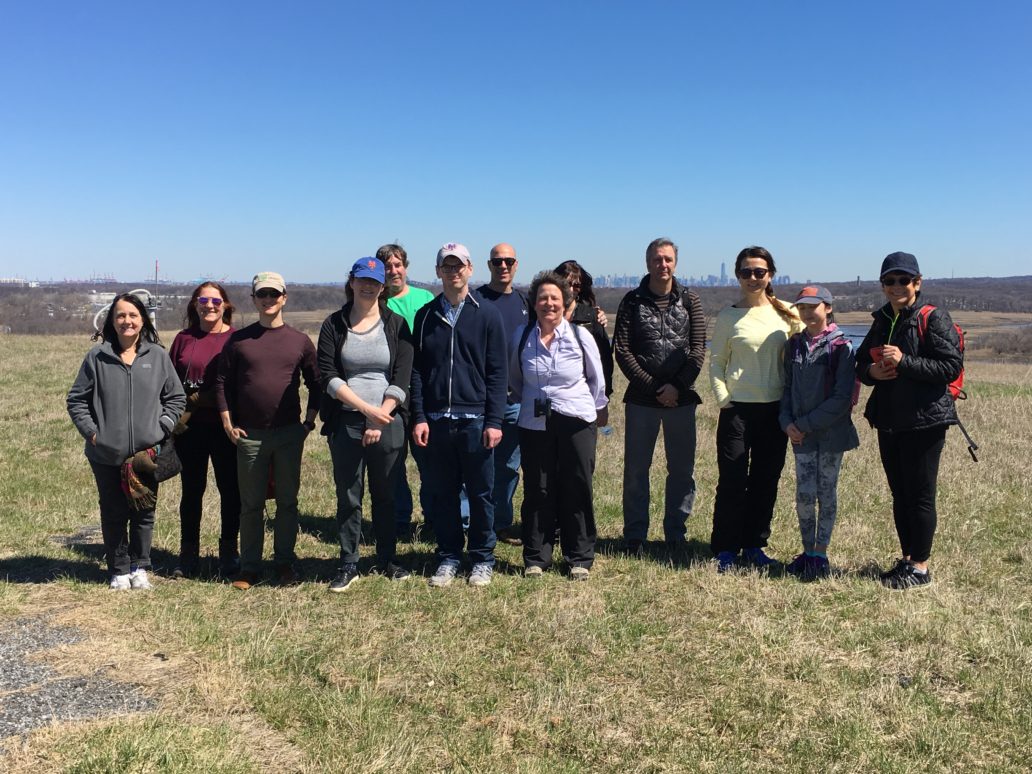 On Sunday April 9, volunteers had the chance to go behind the scenes and visit Freshkills Park for a hike and information session. It was a beautiful sunny day with clear blue skies and perfect temperatures for walking.  The green grasses were just starting to emerge, the blossoms were opening on the Callery Pear Trees, and the ospreys had returned to their nests after wintering in warmer places.
Thirteen enthusiastic volunteers joined staff for the two mile hike up one of the Park's four mounds. During the event, volunteers learned about the area's history as a wetland ecosystem and how the Fresh Kills Landfill filled in much of the wetlands with garbage from New York City's five boroughs. The mounds have been engineered to collect and process byproducts and provide stable hills that now serve as a valuable grassland ecosystem.
Some volunteers had been to the Park before and others were newcomers interested in learning about the Park and opportunities for volunteering.  We enjoyed the landscape of rolling hills, creeks and the William T Davis Refuge and closer views of daffodils and raptors. As we made our way to the top of the mound, people were astonished by the expansiveness of the Park and the views of New Jersey and lower Manhattan.
Participants had the chance to share why they wanted to volunteer. Many were excited by the Park's transformation and wanted to help promote and support it. Others were outdoor enthusiasts and experienced volunteers who wanted to apply their interests to the Park.  We are looking forward to seeing everyone back at the park this season helping with visitor services at Discovery Day events, beautification projects at Schmul Park and the New Springville Greenway, and shoreline cleanup projects along the Park's wetlands.
For more information about volunteering with Freshkills Park, join the mailing list and subscribe to Volunteer Opportunities.