Turtle Research and Water Sampling Indicate Healthy Ecological Progress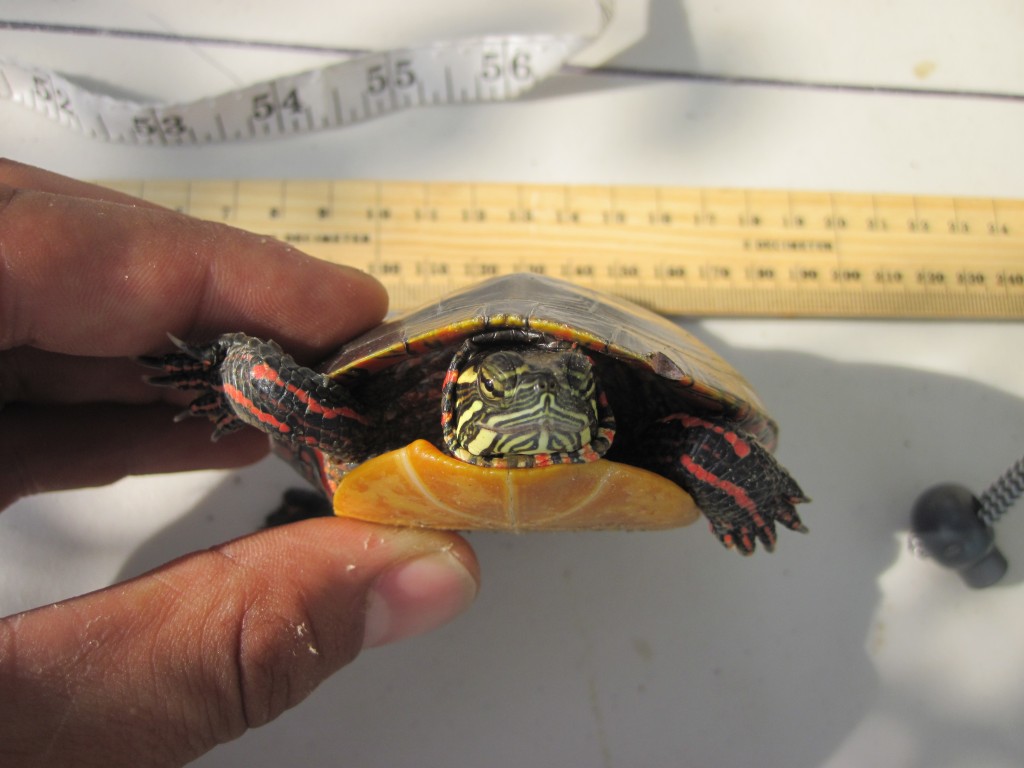 Researchers from the College of Staten Island have carried out another successful season of turtle research at Freshkills Park. Since 2012, they have been studying the biodiversity of the park's ponds with a focus on painted turtles. This comparative study is looking at painted turtle populations in the park's rainwater basins compared to three other populations around Staten Island.
When rainwater falls on Freshkills Park's engineered hills, it's collected through a network of swales, channels, and downchutes. The rainwater is then sent to detention basins at the bottoms of the hills. This system ensures that water doesn't destabilize or erode the layers of soil that make up the landfill cover. Since this engineering was installed, the quiet waters of the detention basins have become freshwater ecosystems that serve as a habitat for a variety of wildlife, including painted turtles.
The turtle research project involves a "capture-mark-recapture" program. Researchers catch the painted turtles, add unique markings to their shells and record the details, then release them back into the ponds. This approach allows them to keep track of individual turtles over time to inventory and assess the population health. Since the program began, researchers have captured over 100 turtles in Freshkills Park, and they've observed stable populations in the park's rainwater basins.
In the summer of 2016, more than half of the captured turtles at Freshkills Park were recaptures, which indicates a stable population. Water samples collected in early June and late August for environmental DNA analysis of pond-life reveal that the microbial communities in the three rainwater basins are similar to natural ponds around Staten Island. These results indicate healthy ecological progress in the park's freshwater systems.
This project is conducted by PhD candidate Seth Wollney from the College of Staten Island. For more photos and information about this project, visit the Pond Turtles research page.