Sneak Peak 2013
On September 29th, Freshkills Park opened its gates to the public for the fourth annual Sneak Peak event and attracted 3,500 people, a steady increase from previous years.
They came on bikes, on ferries, and in cars; with family, with friends. A girl from Brooklyn says, "This is a strange place. It does not feel like we are in the city at all." Indeed, the tall yellow grass, the rolling hills, and the hawks in the sky seemed like neither the city nor the previous landfill site.
In the central area, a miniature horse pulled kids around for five minute rides. The goats that helped eat the site's invasive phragmites, bleated at passerby. Families lounged on wooden-crates, as Staten Island artists transformed the stone bridge with spray paint.  In the distance, a giant rock wall supported climbers of all ages; kayakers took boats into the river.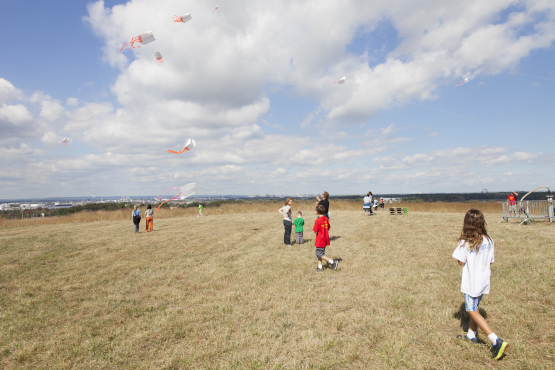 For a quieter experience, people trekked to the Overlook, a high point where they could see the Manhattan skyline. Or, on a steeper path, they climbed to the top of North Mound and flew Freshkills Park kites.
Art, nature, food and clear skies: we couldn't have asked for a better day! Now, to start planning for next year's Sneak Peak… In any case, stay posted on Freshkills Park happenings, and if you missed Sneak Peak this year, there's always next year. Park tours are also available from April to November: