Recycle your e-waste at Sneak Peak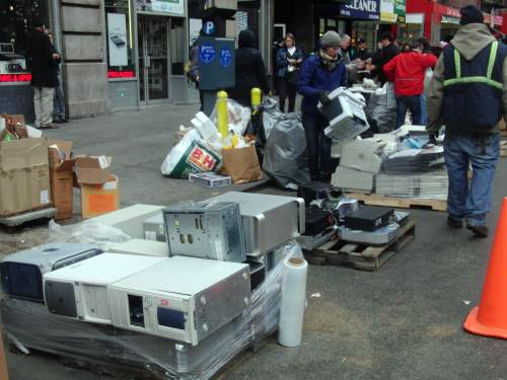 There will be plenty of activities and fun and gorgeous scenery at Sneak Peak this Sunday, but it's important to remember that the Freshkills Park site is a landfill because of us–all of us, and our constant production of garbage.  And it's important to take this site as an example to act more responsibly.  Appropriately, then, the event will also play host to an electronics recycling event.
The Lower East Side Ecology Center (LESEC) will be running an e-waste recycling event–one of 17 throughout the City this fall–on Sunday from 10am to 4pm, in the parking lot of the Showplace Entertainment Center, near the parking lot for Sneak Peak.  A list of acceptable materials can be found here and include electronics from households and small businesses (less than 50 employees, please call ahead) as well as not-for-profits. Home appliances such as microwaves, refrigerators, or air conditioners will not be accepted.
Recycling electronics prevents valuable materials from entering the waste stream and hanging out there–unable to decompose and poisoning surrounding soil and water tables–for centuries. Electronics are packed with valuable resources like precious metals, copper, and engineered plastics, all of which require much energy to manufacture. Donating your electronics for reuse is the most environmentally-friendly option, but if devices are not in good enough shape for someone else to use, recycling them is the next best thing.  Once you've dropped off your e-waste with LESEC, you'll be free to join the fun at Sneak Peak!