At Sneak Peak: free kayak tours of Freshkills Park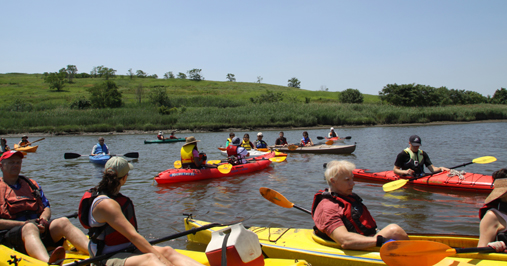 The most in-demand activity at last year's Sneak Peak, by far, was the chance to paddle a canoe around the Freshkills Park site.  This year we began a public kayak tour program at the site and will open up our capacity significantly at this year's Sneak Peak, this Sunday, October 2nd. Visitors will be able to paddle in Fresh Kills Creek and Main Creek, taking in  incredible views of the landfill mounds and native wetland habitat.  This is a spectacular way to experience the site and its varieties of plant and animal life.
Tours will last 45 minutes and run throughout the duration of the event: 11:15 am, 11:30 am, 11:45 am, 12:15 pm, 12:30 pm, 12:45 pm, 1:15 pm, 1:30 pm, 1:45 pm, 2:15 pm, 2:30 pm and 2:45 pm.  Tour capacity is limited, and registration will begin at 11 am, so make sure to get there early if you want to guarantee a seat on a tour!  Boaters of all ages and paddling abilities are welcome.  Ages 8 and up.  No outside kayaks are allowed.
We are deeply grateful to our community partners at Kayak Staten Island, The Downtown Boathouse, and Long Island Community Boathouse, for providing kayaks, water safety instruction and guides for these tours.  See the Sneak Peak website for more information about all of the other exciting activities going on throughout the day.