Project Development Coordinator: Karl Vetter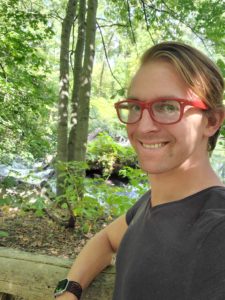 Karl Vetter is the Project Development Coordinator for Freshkills Park.  A native of the Bronx, he has been highly involved in urban greenspaces as a Central Park volunteer, an intern in a Hydroponic greenhouse in Newark, an Americorps Coordinator with the New York Restoration Project, and a seasonal staff member of Partnerships for Parks. Karl received his Bachelor of Arts in Psychology and Creative Writing from Binghamton University in 2009.  He received his Masters of Business and Science in Horticulture and Sustainability in 2016.
What are you working on, and why do you think it's interesting/important?
I am working on relaying updates of activities and projects at Freshkills Park to the public through social media and other outlets.  I think the process of transitioning a landfill to a park is very interesting.  Freshkills is the largest NYC park development in a century, and the fact that it is a former landfill being converted into NYC's second largest park is a major event.  Relaying that process and the activities that Freshkills proudly offers is so vital to the success of the park's biodiversity and popularity.  The more people know about how this incredible transformation is taking place, the more they may be inspired to consider more sustainable choices and get involved in the climate change discussion.
What drew you to Freshkills Park?
Throughout my Horticulture vocation, I was drawn to sustainable solutions through horticulture-based projects. Freshkills Park represents the epitome of that goal because it will simultaneously repurpose literal trash lands, restore necessary ecosystems, act as a learning resource for schools, and serve as a research location for scientists while simultaneously providing a functioning green space for people, athletes, and artists to grow with the park.  I personally love to run in green spaces to connect with nature, and I am excited to be able to run through Freshkills and observe native species in their natural habitat.
What is your favorite topic surrounding Freshkills Park and why?
In my conservation techniques class I learned that as soon as humans have impacted a space, it can never truly be restored. However, a new natural norm can be created.  Freshkills Park is a defining example of creating a new norm, by transforming a space that was the ultimate environmental hazard into a prime location for native plants and animals to flourish.  On the surface you have a natural setting that could pass for a traditional grassland, but below the surface you have advanced technology to keep the trash contained and storm water mitigated.  This duality of the natural and the technological represents the future of conservation efforts, and the park is a beacon of change in the fight for a greener tomorrow.
What is your favorite color?
My favorite color in nature is purple.  In the early spring, some of my garden's first blooms are wild violets, vinca, ajunga and there are refreshing purple blooms all around signaling spring has arrived.