Governor's Island Master Plan released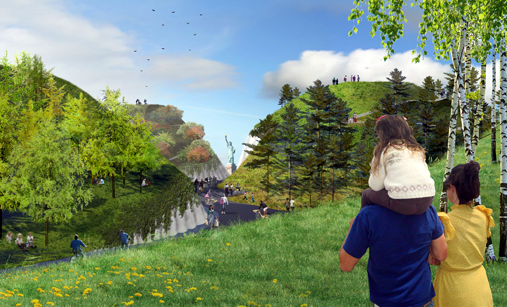 Through an agreement with the State, the City of New York now has sole custody of  Governor's Island and has released its park and public space master plan for the $220 million redevelopment of the 172-acre site.  The tantalizing plan has been prepared by Dutch urban design and landscape architecture firm West 8 in partnership with Rogers Marvel Architects, Diller, Scofidio + Renfro, SMWM and Urban Design+ and features a 2.2 mile waterfront promenade, picnic and event lawns, a grove of trees hung with hammocks, man-made marshes and steep, artificial hills that will help to create dramatic overlooks and vistas of lower Manhattan.  Also part of the plan are two large-scale development sites for which a deal has not yet been announced (a satellite campus for NYU is one rumored possibility).  The City has committed $41.5 million of the $220 million park and public space development price tag thus far.  The first phase of construction is expected to begin in 2012.
275,000 people visited Governor's Island last summer alone, even in advance of park development.  This is going to be a hugely popular destination.