Go Green this Sustain-a-ween!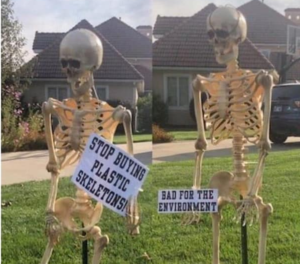 Halloween is on a Saturday this year, which means plenty of time for various Halloween activities.  This year make it a Sustain-a-ween! Halloween decorations and treats are fun, but what happens to everything afterwards?  Plastic Halloween decorations and candy wrappers aren't recyclable and are likely to end up in a landfill.  "Fun size" candy wrappers create even more waste than full-sized bars, are more likely to becoming windswept litter and ending in our open spaces.  Did you know you can bypass the waste and enjoy Halloween through upcycling?  If you need last minute decorations and festive snacks, check out these 5 Sustain-a-ween zero-waste activities to make this black and orange holiday a little greener!
1. Origami Familiars
What you'll need: Scrap paper, Scissors, Markers
Craft your very own familiar, be it a bat, owl, cat, or toad through origami, the art of folding paper.  Experiment with scrap paper like old magazines, junk mail, and newspaper for different colors and patterns.  Which recycled papers have you found work best?   We used a brown paper bag which was made of recycled materials and just as recyclable to make some bats.  A fun idea is to make a bunch of bats and hang outside from a tree or pole (if the weather is dry), or to stage a race with jumping frogs.
2.What's This? Spider-flakes?
What you'll need: Scrap paper, Scissors, pencil, tape
Since Tim Burton's The Nightmare Before Christmas, the idea of a snowflake cutout turning into a spider is a fun way to bring a Christmas craft to Halloween.  To make the iconic spider cutout, simply fold a square paper in half and freehand half a spider along the fold, staying connected by the web outline.  Carefully cut out the hollow sections and open.  Feeling adventurous? Explore more complicated folds, and cut out patterns to create skulls, ghosts, pumpkins, and witches.  Place the cutout in your window, add a different colored backing to have the pattern stand out more.  Try contrasting a brightly colored store shopping flyer against brown paper shopping bags.
3. Need a mask?
What you'll need: Cardboard, string, markers or paint, glue(hot glue preferred)
It's Halloween, and you said you weren't going to dress up, but now you have a change of mind.  Don't be the only one on the Zoom call without a mask!  Start with thin cardboard, like a cereal box or other food packaging.  Cut out and decorate a number of ways with few limitations.  When ready, punch holes and attach with as string.  You can also use the elastic from a used surgical mask to add another level of upcycling.
4. Monstered Eggs
What you'll need: Eggs, food coloring, white vinegar, mugs, boiling water, old newspaper
Optional: crayons, markers
Egg dying isn't just for bunnies in the spring, and it's always a fun activity, especially if your meal prep includes hardboiled eggs.  For instructions to make your own egg dyes, click here.  Even drawing eyes on a hardboiled egg makes a ghost, adding a yellow and orange stripe makes candy corn.  Drawing with crayons is a fun trick to repel dye or add details.  If your egg carton is cardboard, you can save to use as a seed tray in the spring.  When you're done snacking on your monstered egg, the shells can be used in your garden or compost.  For less mess, or something sweet, tangerines and oranges make for great jack-o-lanterns, you just need a marker.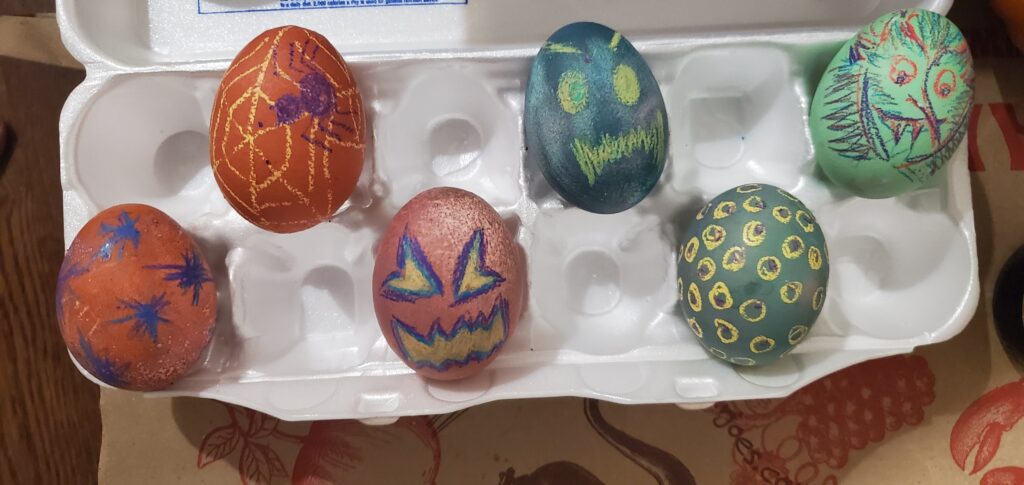 5. Scare-eal No Bake Bars
What you'll need: cereal, peanut butter, honey, butter
Optional: peanut butter chips or other candies.
Avoid the waste from fun-size candy bars by making your own treats. If you cut the box holding your cereal to make your mask, you may need to use your cereal quick.  Or you may just want a sweet treat  while watching your favorite Halloween movie Saturday night.  Start with the basic recipe for no bake cereal bars. Feeling festive? Add in some candy (buy in bulk to minimize packaging) on top, or experiment by swapping out your favorite cereals.
Halloween is a scary time of year, but waste is scary all year.  Avoid the scare and go green this Halloween.  If you celebrate Sustain-a-ween this year,  share and tag us on social media @freshkillspark.