Waste Today, WALL-E's Tomorrow
Unless you grew up near a landfill, like Fresh Kills, the average person doesn't think twice about their trash once it's picked up. However, all trash still has to go somewhere, and most of it isn't designed to break down for hundreds of years. On the personal level, we can reduce our waste streams by being aware of where our trash ends up and how to audit our trash.
Freshkills FreshFlicks of the week is WALL-E
Pixar's WALL-E is the story of the last robot on Earth, left to clean and cube the trash left behind by humans. In this dystopian future, human consumption and excessive waste goes unchecked. WALL-E was released in 2008, and its relevancy as a wake-up call is still very fresh in 2020. In 2001, New York City closed Fresh Kills Landfill, leading the boroughs to devise new trash plans. The solution was to ship the city's trash to other landfills and waste-to-energy plants while putting in measures to reduce municipal solid waste with the 2006 Solid Waste Management Plan.
Before the trash is shipped, it is compressed and cubed, just like WALL-E does with his body in the movie.  On a positive note, WALL-E managed to stay charged using renewable solar energy.  The movie foreshadows how waste could overburden the Earth, making it unlivable.
However, the movie reminds us not to underestimate nature and reclamation efforts, and finishes with a triumphant montage of life returning among the mounds of trash.
The concept of reclaiming lands from waste sites isn't science fiction. Freshkills Park, the world's largest landfill-to-park project, is being built around 150 million tons of trash. Less than 20 years after closure, the  park is now home to many native plants and species that have been beleaguered for years. This includes the state-threatened Grasshopper Sparrow, which nest at Freshkills Park in higher numbers than anywhere else in the region. The exaggeration of waste culture presented in WALL-E has us asking the question, "How can I reduce my trash?"
Upcycle your STREAM time with STEAM!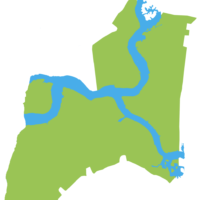 Trash reduction begins at home.  Throughout the week Freshkills will share resources that address  reducing our waste.
Share your favorite quote, scene or personal connection to WALL-E on Social media using #FreshkillsUpStream
Check back this #WasteFreeWednesday for an upSTREAM tutorial making a multi stream recycling station with upcycled materials around your home.