Earth Day Festival Highlights
On Saturday, April 23rd, the Freshkills Park Alliance hosted our first Earth Day Festival at our Studio + Gallery's newly refurbished outdoor space. In the weeks leading up to the event, dozens of volunteers helped beautify the space to promote the growth of environmentally beneficial plants and to prepare it for hosting our community for a day of fun and educational activities.   Thank you to our volunteers, new and returning!
The Earth Day Festival also couldn't have been possible without support from NYC Parks, as well as a range of community partners. La Colmena, New York Community League, National Parks of New York Harbor, United Activities Unlimited, and Con Edison tabled to share their work and services with visitors of all ages.
Other partners include the Compost Project at Snug Harbor, Urban Park Rangers, Richmondtown Public Library, Be Yoga & Dance, and IlluminArt Productions. From compost workshop to nature walks to the William T. David Wildlife Refuge along the New Springville Greenway, environmental storytimes, mindful movement, and upcycled plant sculpture, it was a day with something for everyone.
We saw over 335 people from Staten Island, Brooklyn, New Jersey and beyond pass through to make seed balls, engage in creative reuse projects to decorate their bikes, scooters and strollers, and connect with other folks who care deeply about our environment and our relationship with it. 
 Events like Earth Day festival are made possible with the support of the community, click here to learn more about how you can help Freshkills Park.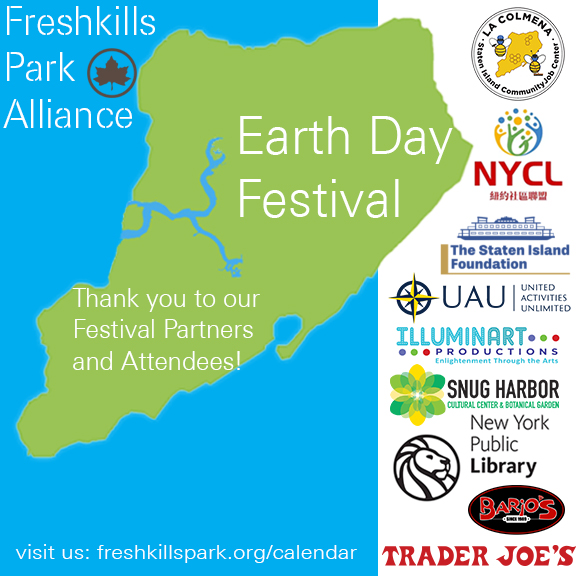 The Freshkills Park Alliance looks forward to activating our Studio + Gallery space for other community-based programs in the future. What sort of programs would you like to see more of? Let us know here! Check out our calendar or sign up for our newsletter to learn of upcoming programs, tours, and volunteer opportunities.