Community Engagement Fellow: Brittney Williamson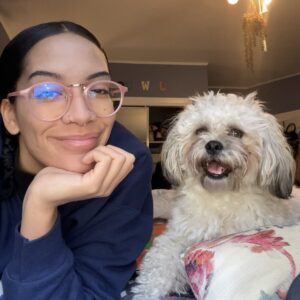 Hi! My name is Brittney Williamson and I'm the new Community Engagement Fellow at Freshkills Park! Born and raised on the North Shore of Staten Island and a transfer student from Syracuse University, I've recently completed my undergraduate studies at CUNY John Jay College, earning two degrees:  a Bachelor of Science in Security Management with a minor in Mathematics and a Bachelor of Art in Philosophy. Currently, I am aiming to pursue graduate studies in Philosophy and/or Public Administration/Policy.
 What are you working on, and why do you think it's interesting/important?
As the Community Engagement Fellow, I will serve as an advocate for Freshkills by assisting in program development that responds to the needs and desires expressed by local communities, especially minority groups that are often underserved and underrepresented on Staten Island. Often, this calls for conducting outreach to various partners, sponsors, and park supporters in order to accommodate the diverse groups and interests here on the island. As the pandemic lead to my spending more time in Staten Island/NYC parks and greenspaces, and I came to discover the mental health benefits that comes with spending time in natural settings. As anxiety and depression rates have become more prevalent in recent years, especially among BIPOC, disabled, and LGBTQ+ persons I believe the park will act as a haven for those wishing to "escape" life for a little while and find new pleasures in trying times.
 What drew you to Freshkills Park?
Although I was born after the former landfill was set to stop receiving garbage, growing up on Staten Island made it nearly impossible to avoid an animosity-ridden one-liner made at the borough's expense, largely due to the environmental impact the landfill imparted on the island. Other factors included, I believe that the island's less-than-desirable past has led to borough residents' loss of appreciation for Staten Island and its greenery. Additionally, I've always had an affinity for the outdoors, art, and science and research, and I love how Freshkills is a perfect conglomeration of the three. The different colors, sights, and sound of nature, combined with the wide-open spaces, makes Freshkills truly a place to behold.
What is your favorite topic surrounding Freshkills Park and why?
Some of my favorite topics surrounding Freshkills Park relate to the ethical considerations evident in the park's planning and design. When discussing long-term projects such as the development of Freshkills Park, I believe it is important to examine the intergenerational and interspecies conflicts that may arise. For example, to what extent should the rights and happiness of those surrounding the park today infringe on the utility of future visitors? Should human exceptionalism be upheld, or should we award the park's plant and animal populations equal consideration? How do abiotic factors fit into the discourse? Does the Alliance have the moral obligation to act as ethical educators? When it comes to Freshkills, it is evident that the coexistence of the site's function as landfill, park, and habitat is always considered during decision making from both utilitarian and deontological standpoints.
What is your favorite color?
I'm in love with those "early/middle-of-the-rainbow" colors right now; different, earth-tone shades of orange, yellow, and green. When it comes to natural settings, however, my favorite color(s) begin to lean towards bright and obnoxious royal blues because of how rare of a sight they are!