Dutch-themed plaza fronting ferry terminal now open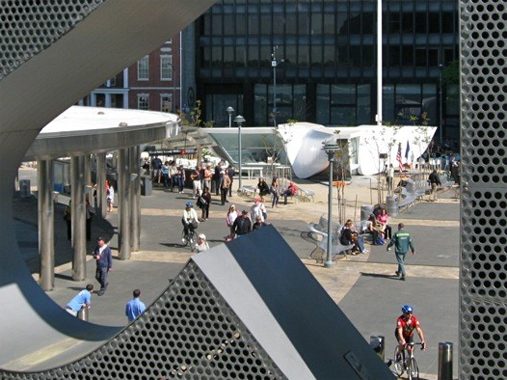 On our trips through the Staten Island Ferry Terminal in Lower Manhattan over the past two weeks, we've been happy to pass through the recently completed Peter Minuit Plaza.  The 1.3-acre plaza fronts the ferry terminal and serves as a nexus of transportation modes and public space at the tip of the island: ferry, subways, buses, bikeways, benches and outdoor tables and chairs are all present here.  Downtown Express reports the history behind the name and the significance of the space:
The plaza was named for the Director General of New Netherlands who, in 1626, allegedly bought the island of Manhattan for the Dutch West India Co. from the Lenape Indians for the equivalent of $24 in trade goods. The 1.3 acre park is centered by the New Amsterdam Plein and Pavilion, a gift to the City of New York from the Kingdom of the Netherlands on the occasion of the 400th anniversary of Henry Hudson's arrival in what is now New York harbor aboard a Dutch ship, the Half Moon.
Planted with cheerful tulips and slabs of stone engraved with quotes from "The Island at the Center of the World," the plaza's synthesis of New York City past and present offers a warm welcome as we make our way back and forth to the Freshkills Park site to see about its future.