College campus commissions solar field/land art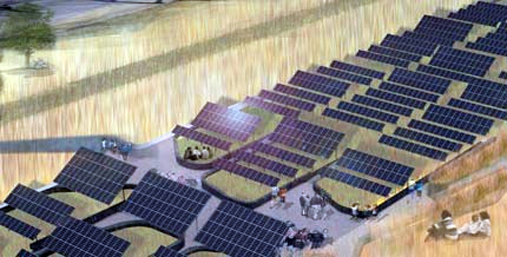 The University of Buffalo has commissioned landscape architect Walter Hood to design a 5,000-panel solar array to be sited on 6.5 acres of its campus and to function as a signature piece of land art.  The Oakland, CA-based Hood won out over proposals by Vito Acconci and Diana Balmori with his proposal for a fragmented grid, meant to recall DNA, supported on posts and suspended over low-maintenance grasses, crab-apple shrubs, ornamental lindens, trees and an existing creek, all of which will be publicly accessible.  University officials were keen on commissioning a design for the array that would transcend the banality of most large-scale solar installations.
The project will be funded by a grant from the New York State Power Authority and will feed into the university's grid, supplying on-campus housing with enough electricity for approximately 700 students.