Citi Volunteers Clean Kayak Launch Shoreline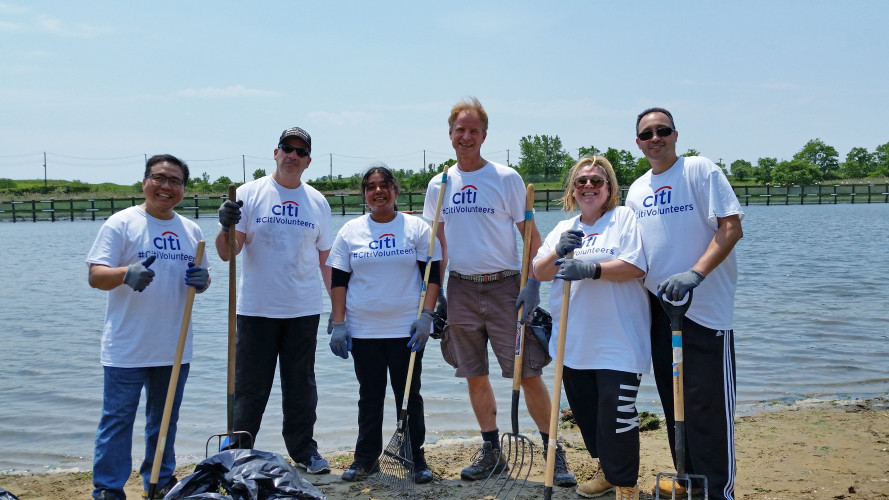 On a recent, sunny Saturday, six enthusiastic Citi volunteers cleaned up the Main Creek kayak launch at Freshkills Park. This volunteer project was part of Global Community Day, the organization's annual day of service where tens of thousands of Citi employees, along with their families and friends, come together as a global volunteer team.
Removing debris from the tidally influenced shoreline of the launch is no small feat. Debris (rags, plastic bags and plastic bottles) is carried into the waters of Main Creek from the Arthur Kill and then as the tides move in and out on the shore, becomes entrained in the sand.  Beginning at low tide and working our way upland as the tide came in, volunteers gamely raked, shoveled and picked up all kinds of household garbage. After several hours of work, the launch area was sparkling and ready for the next round of kayakers and 20 plastic bags of garbage were stowed for pick up by NYC Department of Sanitation (DSNY).
As part of the event, Citi volunteers also got to experience some of the wildlife at the Park. We watched two ospreys at the nearby nest, including one who had caught a fish, and one volunteer caught a young fiddler crab.  The event ended with a trip to the top of North Mound for panoramic views of the Park and lower Manhattan. None of the volunteers had been inside the Park before and all commented on its unexpected beauty and expansiveness. We expect to see some of them again soon- several promised to return with their families on June 26 for the next Discovery Day!
The Freshkills Park Corporate Volunteer Program provides a unique opportunity for corporate teams to learn about and experience the Park, contribute to the maintenance and well-being of its amenities and facilities and support the efforts of the Freshkills Park Alliance as it champions the largest landfill to park transformation project in the world. For more information about corporate volunteer events, contact laura.truettner@parks.nyc.gov.