A Guide to Discovery Day on May 15th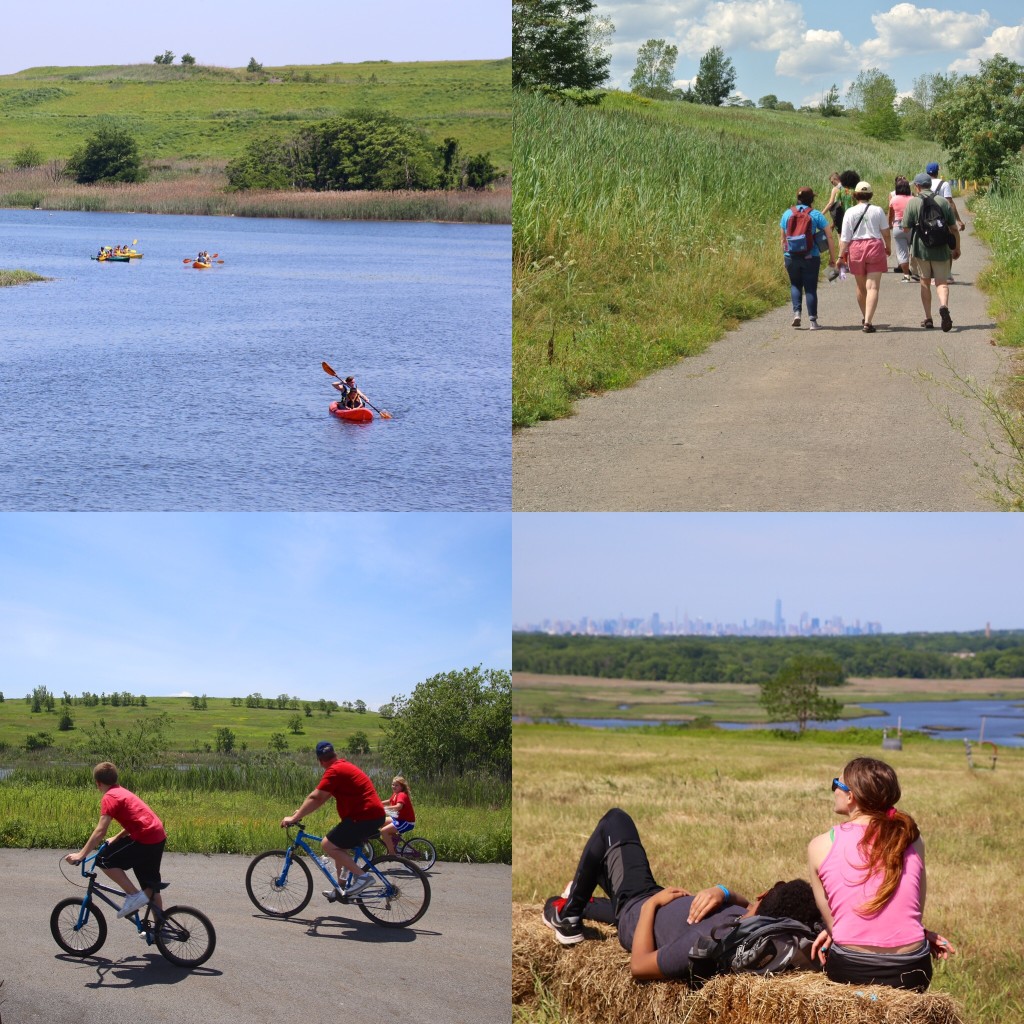 Freshkills Park will offer Discovery Day on May 15th from 11am to 4pm. During this free public event, 700 acres of the otherwise closed site will be open for outdoor recreation, providing opportunities to explore and learn about the landfill-to-park project.
700 acres is almost the size of Central Park. It's a lot of ground to cover, so here is a guide for how to make the most of the day.
Bike a three-mile loop along meadows and wetland ponds. In total, there will be about five miles of pavement open on Discovery Day. Visitors of all ages can bring their own bicycle or rent one for free at the event.
Run or Walk to get some exercise and enjoy stunning views along the way. A total of eight miles of trails and paths will wind along the park's hills and creeks, offering chances to view wildlife. A 5K course will be mapped out for runners and walkers, but you can easily travel shorter or longer distances.
Shuttle across Staten Island or in the park. A free shuttle bus will run from the Staten Island Ferry Terminal (Ramp E, Taxi Stand) to and from the park continuously during the event. Drivers can park in the parking lots near 350 Wild Avnue and take a shuttle into the park from there. Once in the park, you can  walk a few yards to another shuttle, which will take you to the top of a hill that offers panoramic views of New York City.
Learn from tours with local artists and experts who will cover topics like birding, landfill infrastructure, and design. An outdoor gallery with posters will also be on display, illustrating the engineering, wildlife, and ongoing development at the park.
Play with a performance and activities for kids. There will also be a DJ playing music during the event.
Kayak tours will be available, but pre-registration will be required. Check the website and follow Freshkills Park on Facebook, Twitter, and Instagram to know when registration is available.
Experience the park. Along with all its activities, Discovery Day is also about being able to stop and look around. Enjoy the views, take photographs, and think about how cool it is to be exactly where you are.
Date: Sunday May 15, 2016, 11am-4pm
Getting There: Parking will be just outside Freshkills Park in the lots near 350 Wild Avenue in Staten Island. From there, visitors can take a shuttle bus or walk or bike one mile to the main hub. A free shuttle will also make trips to and from the Staten Island Ferry Terminal in St. George (Ramp E, Taxi Stand) during the event.
Partners: NYC Audubon, WSIA, City Parks Foundation, Kayak Staten Island, NYPL, and more.
Additional tours and events are available between April and November. Visit www.freshkillspark.org and follow Freshkills Park for details. Presented by NYC Parks, NYC Department of Sanitation, and the Freshkills Park Alliance with support from Pratt Industries and Panera Bread.