Your Guide to the Open Hours Event on June 30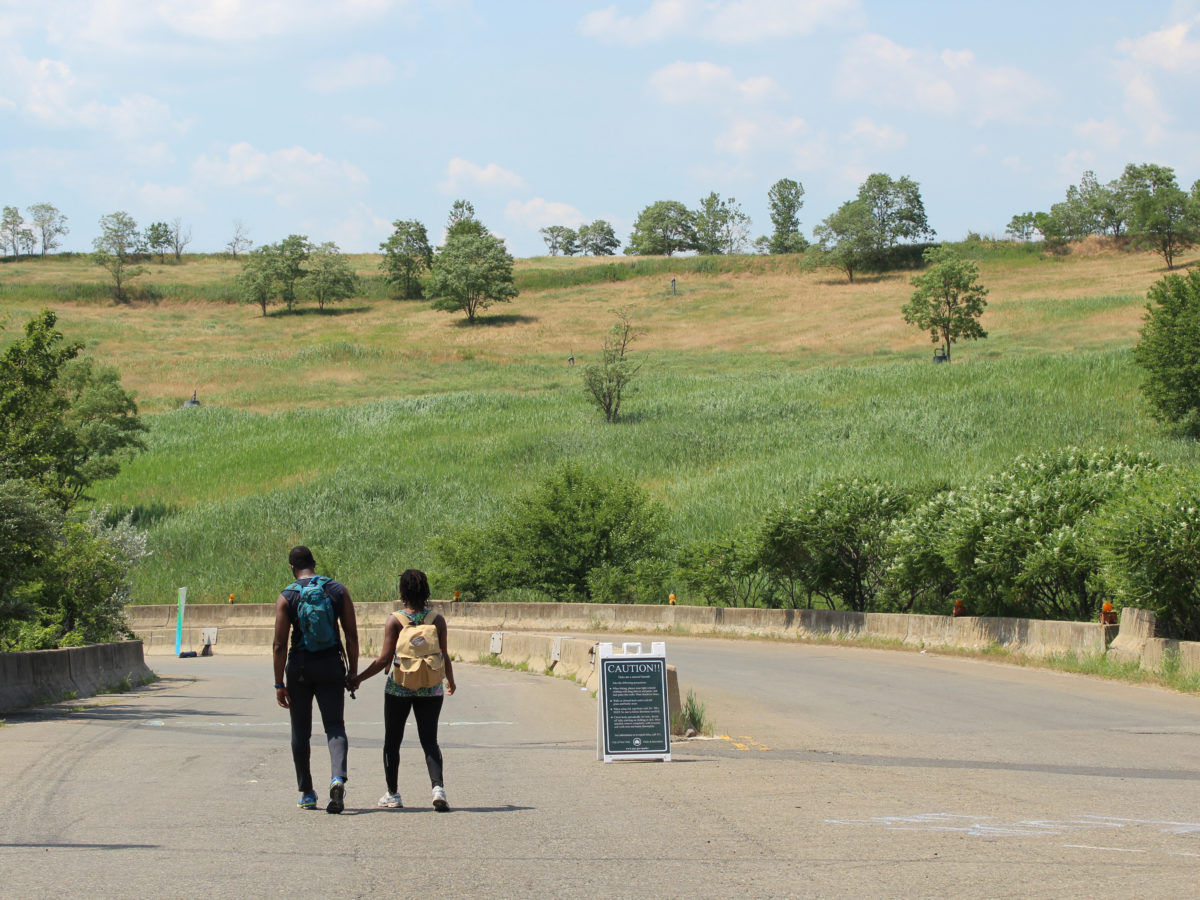 On Sunday June 30th, you can bike, run, walk, or birdwatch in normally closed areas of Freshkills Park! Open Hours will take place from 10:00 a.m. to 2:00 p.m., with over six miles of roadways and trails providing access to views of wildlife, wetland creeks, and engineered meadows. The event is free, but you can register to save the date and receive a reminder email.
Here's your guide to the event:
Activities
The roads at Freshkills Park are perfect for bicycling. If you can't bring your own bike, the Freshkills Park Alliance will be providing some for free.
The paths will also be open for those looking to explore the site by foot, with plenty of good locations for birdwatching and photography.
During the event, Projectivity will unveil a new mural along the bridge. Artist Mona Oman worked with a group of 9-12 year olds from Staten Island for 8 weeks, teaching them how to paint different flora and fauna found in Freshkills Park. Students each picked which wildlife or plants they would paint and worked together completing the mural. Come meet the students and artists involved at 12:00 p.m. This program is supported, in part, by public funds from the New York City Department of Cultural Affairs in partnership with the City Council.
Staff and volunteers will be available to help with directions and answer questions about the project.
How to Get There
Freshkills Park is located on the West Shore of Staten Island, and the event entrance is at the corner of Wild Avenue and East Service Road. Parking will be available in surrounding lots. Local and express bus transportation stops nearby. Bicycles will be available at the event entrance. From there, you can walk or bike into the park.
Access
This event is open to people of all ages, but visitors should be prepared to walk or bike at least 1-2 miles. Limited shuttle transportation will be available. Check out the event map for a better sense of where you can go and what you'll see.
What to Bring
Personal bikes are allowed and encouraged! Please remember to bring a helmet if you have one.
Bring a camera for photography, binoculars for birdwatching, or just an interest in seeing sections of the future park.
Dress appropriately for the weather. The area has limited shade and can be very windy. Be sure to apply sunscreen and wear sturdy shoes.
Bring your own water and snacks. There aren't any water fountains or food vendors on site.
Your dog is welcome to attend, but please note that there is limited shade at Freshkills Park. On asphalt roads in warm sunny weather, this can be a challenge for our four-legged friends. D

ogs must be kept on leash at all times.
Open Hours is presented by NYC Parks, NYC Department of Sanitation, and the Freshkills Park Alliance. Follow @freshkillspark on Twitter, Facebook, and Instagram and join the mailing list for updates.