Thinking Outside the Bird Box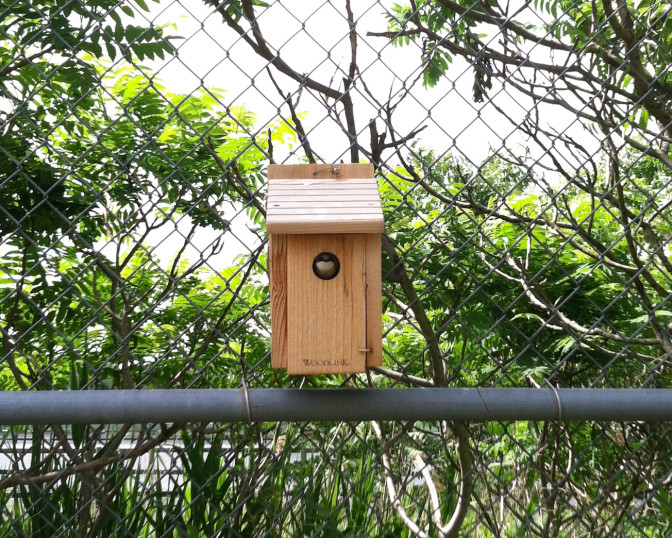 Freshkills Park will soon launch a digital app that will tweet photos of birds like tree swallows and house wrens from inside their bird boxes at the Park. This project will broadcast the ongoing ecological restoration of the Park, create new potentials in the field of scientific research, and highlight a research project investigating the health of the Park's cavity nesting birds.
As this new project prepares for flight, individuals across the world are also finding innovative ways to educate the public and promote environmental awareness through digital technology. In Amsterdam, Dutch designer Joris Lam has installed a series of high tech Tree WiFi birdhouses that serve as nitrogen dioxide-detecting sensors, developed to raise awareness about Amsterdam's current air pollution problem. According to Next City, the birdhouses are illuminated and WiFi-enabled whenever nitrogen dioxide levels are at optimum air quality levels; however, when pollution exceeds safe levels, the light disappears and the birdhouse WiFi shuts off.
The tweeting bird boxes will monitor positive environmental changes at Freshkills Park, but digital technology can also be a way to monitor and raise awareness about environmental problems. In Beijing, designers Deren Guler and Xiaowei Wang have created air-quality-sensing kites. Called FLOAT, the project involves citizen-science-based air monitoring, empowering Beijing residents to participate in the pollution data collection. A documentary by Joshua Frank called Stars in the Haze looks at how Guler and Wang have organized workshops in Beijing to teach kite flyers how to build these simple pollution sensors that travel into the city's skies and send data back to the people on the ground.
The Tree WiFi birdhouse in Amsterdam, FLOAT kites in China, and tweeting bird box at Freshkills Park encourage people to become citizen scientists, making environmental advocacy increasingly more interactive, empowering, and outside the box.
The tweeting bird box project was supported by the National Endowment for the Arts and over fifty individual donations through an ioby campaign.