Talking Trash with the Center for Urban Pedagogy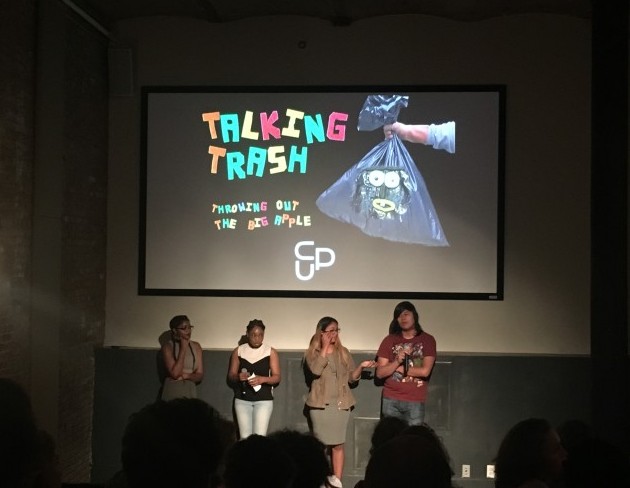 For the past year, students at the Frances Perkins Academy in Brooklyn took a deep dive into New York City's trash. The partnership was part of the Center for Urban Pedagogy's Urban Investigations program. Students research pertinent issues in their community then, with the help of a Teaching Artist, learn how to share their information in a meaningful way. In order to communicate what they learned out NYC's trash, students made the short documentary Talking Trash: Throwing out the Big Apple.
The documentary begins with a simple question: Where does our trash go? The answer speaks volumes about our economy, society and our city. Students explored residential, commercial and construction waste. They touched on labor issues ranging from the dangerousness of sanitation work to the precariousness of private hauling companies.
After explaining the trajectory of NYC's trash policy since the closing of Fresh Kills Landfill, students noted how the current transfer stations still unfairly burden poor neighborhoods with less political power. They interviewed city councilperson Antonio Reynoso, who proposed a bill to reduce the permitted capacity of waste allowed at overburdened transfer stations. (Find bill information and text here.)  The documentary is an incredibly detailed, nuanced look at an issue that impacts all of us.
Some Freshkills Park staff were able to attend the video's premiere on July 11. When the video ended, students entertained questions from the audience. People were eager for their analysis, especially what the students thought could be done to change the system. Their research came with a clear take away: the trash problem is far removed from the everyday life of most people.
One student noted how the systemic nature of the problem influences people: "The day that the garbage truck stops showing up is when people will start caring." Another student thought the problem may be more individual: "Some people are too caught up in their own stuff to even care about trash."
And what do they think is the best way to get rid of trash?
"Well, what if we dropped it in a volcano?"
Written by Jessa Orluk, Freshkills Park Programming Associate